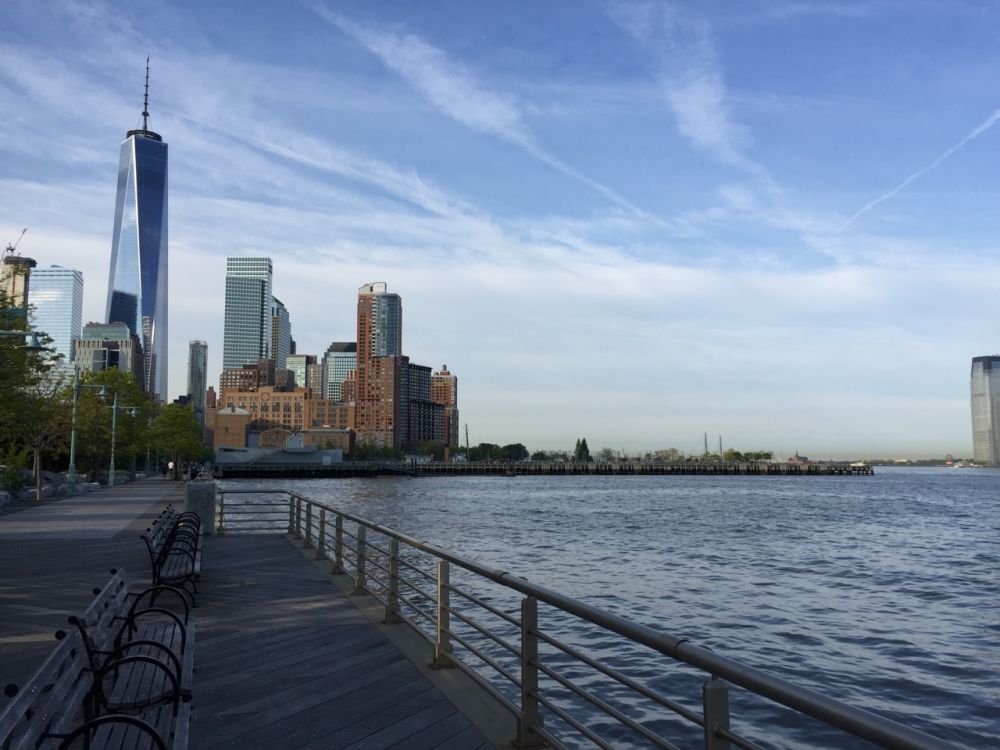 Here's how I spent a glorious Spring day in New York City.
On foot
Woke up early in my small-but-tidy Yotel New York room, or cabin, as they call it. Dressed in my running clothes, and walked down to the W. 30th St. gate of the High Line, a rails-to-trails elevated urban park that I've been reading about for a decade. The gates open at 7 a.m. this time of year, and I was early, so I waited with a cortado at Think Coffee. Then I climbed the steps and walked south on the High Line, mostly alone.
I exited the High Line at its end, and continued, running south on the Hudson River Greenway and Pier 45. Snapped a photo of One World Trade Center and the Statue of Liberty. Turned back, ran to the High Line, walked to its north end at W. 34th St., then back to my hotel.
Showered, dressed, packed, checked out, stopped downstairs into the Swedish coffeeshop FIKA for yogurt and granola and cappuccino.
Walked over to my meeting with Thinkso Creative, to discuss the publication and e-newsletter design needs for the Duke Department of Medicine, where we're drafting our next comprehensive, five-year communications plan.
Walked up 8th Ave. to Central Park. Sat in the grass near the USS Maine Monument. Temperature in the 70s, sunshine a light breeze. Could New York on a spring day be more amazing? Took a timelapse video of the walkers, bicyclists and horse-drawn carriages passing by.
Then, at the appointed time, I met Dave Winer by the monument.
Let's pedal
Dave and I had biked the American Tobacco Trail — also a rails-to-trails project — in North Carolina back in 2012. A few weeks ago, I'd asked if he'd have time to meet when I was in NYC, hoping he'd introduce me to the Citi Bike system of which he's such a huge proponent. Happily, he said yes.
First, Dave led me a short way into Central Park, past the sheep meadow, and we sat at the cafe for lunch and talk of politics, and 1999. Then, more strolling, to the Bethesda Fountain, over the iconic Bow Bridge, up and down the path, along the lake, Dave stopping a time or two to give directions to a stranger, or to point out a feature of the park. I don't think I said much, and I didn't snap any photos. I was stunned by the serenity of the park, and the warmth of the day, and wanted to soak it in. (The last time I was in Central Park was on a frigid day in February 2005, to see the Gates art installation.)
We were at a Citi Bike station. One minute to swipe my card, get my code, and pull out my bike. So easy. Thirty seconds more to adjust the seat, and then we were on our way, coasting down West Dr., pedaling past the Maine Monument again. At W. 59th St., Dave glanced over and asked if I was up for an adventure. Let's go.
"We're going to ride through Times Square," he said.
That meant riding with traffic.
Sounds dangerous as hell, I thought, but fun, too.
Green light
Down 7th Ave., alongside yellow taxicabs and snaking through big tour buses, stopping at red lights, into the maelstrom of Times Square. I've walked there amid the throngs of people on previous visits, but it was exhilarating to be on wheels in the heart of it all, rolling through the artery. I was super alert, trying not to get killed, and having a grand time.
We continued south, and east, over to Midtown East. Our 30 minutes up, we returned the bikes to a Citi Bike station, and walked over to the 2nd Ave. Deli for dinner. For me, matzo ball soup, baked knish, fresh lemonade. Delicious. For dessert, a shared plate of blintzes and rugalech.
Dinner over, Dave planned our walk up and over past the Empire State Building, to the subway. Said thank you, goodbye, and thank you again, and I was on my way back to JFK Airport, and home to North Carolina.
Winning the lottery
Earlier that morning, I'd entered my name in the Hamilton ticket lottery, hoping I'd luck out and get to catch the smash musical from the first row. Dave and I were enjoying our lunch when the 4 o'clock drawing came round, but I didn't get the your-ticket's-waiting message. No matter.
When I finally stepped into my quiet home back in small-town Carrboro, at midnight, I was feeling damn fortunate.
I'd spent a beautiful, full day in a great American city. I walked, ran, biked, ate, listened, talked and rode through it, with a generous and knowledgable guide.
I won. What an immensely enjoyable day that was.
---