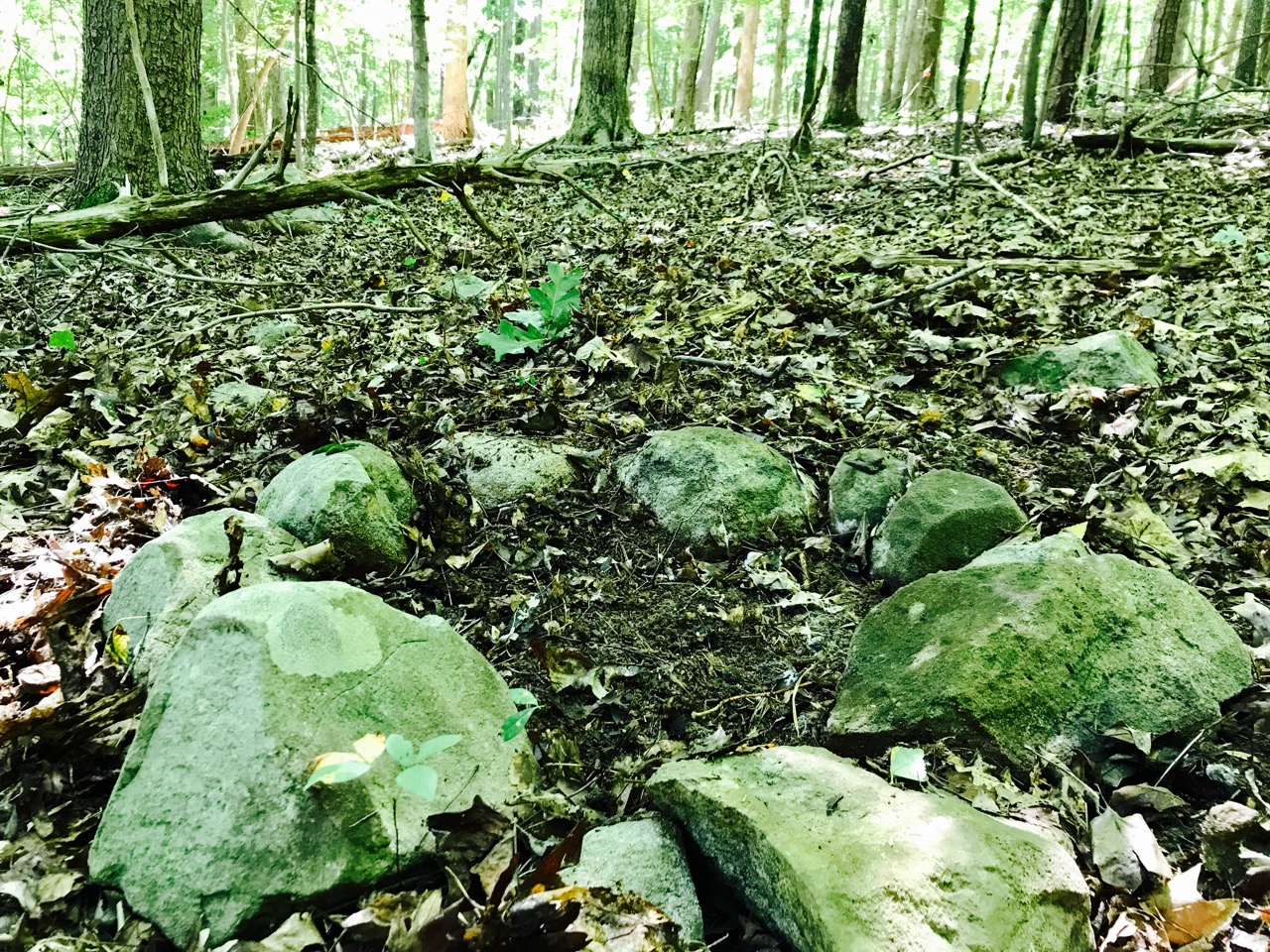 This Saturday was the rare weekend morning — without urgent destination or errand — in which I stayed in bed to read a novel that I could barely put down the night before. I finished Sourdough, by Robin Sloan, before lunch. It's a fun story, about sourdough starter and robotic arms and Bay Area food emporia. Later, I baked a boule.
In the afternoon, I headed for the trees.
The four acres of land we purchased this summer, up a gravel road, is filled with trees. But what kind of trees? In the summer rush of travel and reunions and renovations, I hadn't had the chance to look up and notice, and the recent essay in the NYTimes, Cure Yourself of Tree Blindness, had me feeling guilty. So, I drove to the house in the truck (a white 2006 Ford Ranger 4×4 we purchased this week), parked, and walked into the woods.
A few years ago, wanting to center my writing and breathing to the paces of a rural and natural life, I'd read books by Verlyn Klinkenborg, including his writing manual, "Several short sentences about writing." In that, Klinkenborg encourages writers to learn to notice what you are noticing, and to be specific in describing what you observe. He writes, "It's your business to know the names of things, to recover them if necessary and use them." (pp.42-43)
It's hard to grasp at first the density, the specificity
With which the world has been named.
This is a planet of overlapping lexicons,
Generation after generation, trade after trade,
Expedition after expedition sent out to bring home
Name upon name, terms of identity in endless degrees
of intricacy,
And all at hand, if you look for them.
Let me start by looking up to see the leaves.
I walked to the back of the four acres, where the land slopes down to a ravine. I'd brought along a folding chair, and when I noticed a ring of stones forming a fire pit, I sat down. One night earlier in the week, I'd wasted an hour surfing the web for tips on building a DIY tent platform. (See previous post.) This old fire pit, surrounded by a carpet of decaying leaves, dissolved any need to build a platform. A single fly buzzed by, then a single mosquito. Cicadas thrummed all around. A hawk cried out above the canopy, and another bird — must learn to identify calls, too — cawed briefly among the leaves. Otherwise, the forest was still, silent, sunlit in narrow beams. Various noises from the houses beyond filtered through. It felt really good to be sitting there.
Back home and online again, I found Common Forest Trees of North Carolina: How to Know Them, a pocket manual from the NC Forest Service, which helped me match the leaves I'd seen as white oak and northern red oak, and probably hickory and maple and a variety or two of pine.
In addition to a tent platform, I'd been dreaming of adding a tiny outbuilding for writing and reading and sitting still. It's a common desire, from Henry David Thoreau on down. Writes Klinkenborg: "Think of all the requirements writers imagine for themselves," he begins, following with a list of 23 items. The very first: "A cabin in the woods." (Several short…, p. 79).
One writer who wanted that cabin in the woods, and then built it, and then wrote about it, is Michael Pollan. I've ordered a copy of A Place of My Own: The Architecture of Daydreams from my local independent bookstore. (Klinkenborg reviewed the book here.) Whether Pollan's experience and his insight further inspire or dissuade me to build my own writing nook, I hope to know more of the names of the trees and birds and insects in these four acres.
The NYTimes Travel section today looks at a resurgence in getting outdoors and camping, and highlights the startup Tentrr, which offers secluded campsites ready with tents and cots and cooking utensils and more. The Times includes a photo (above, by Tertius Bune) that shows a Tentrr site. That's just the kind of platform and fire pit that I want to put out on the back part of the four acres we now own in Chapel Hill. Our land is wooded, and slopes down toward a creek, and would be a fun place to camp.
Anna will soon get her driver's license, so we're on the hunt for a new vehicle. On our recently purchased four acres of land, there are fallen branches and discarded cinder blocks and other trash throughout the woods. We've decided we could use a pickup truck. For the last few weeks we've been looking at old Ford Rangers and newer Toyota Tacomas. We made a deal for a 1997 Ranger, but backed out once we learned it had sat in a garage for the last seven years. Yesterday we drove a 2005 Toyota Tundra 4×4 v8, nice but a bit too much truck for us. So Erin called a guy off Erwin Road and made a plan to stop by in the evening to purchase a scratched but low-mileage Tacoma. We showed up with a check, only to be told he'd sold it to someone else an hour earlier. We stayed just long enough to get a bit of the story of the family squabble behind the crazy-ass pallet fence we've been watching go up over the last few years. We were miffed about missing a seemingly good deal, but oh, well.
We went to dinner at one of our favorite restaurants, Pizzeria Mercato, for the delicious roasted white corn, a garden salad, and a margherita pizza. We talked about purchasing a new Tacoma from Mark Jacobson Toyota, where we have a good relationship with one of the salesman. Those shiny new trucks sure are attractive.
My broken toes are now healed, but I needed to visit a physical therapist a couple of times this month, for advice on a sore back. She advised me to stretch more and longer, and to strengthen my core muscles. That's helped me get back to running, and soccer again. I woke this early for pickup soccer in Durham. A few minutes into the play, I promptly scored — in my own goal on a drop pass. Made up for it with hustle, a couple of good header passes, and two goals at the correct end.
School starts tomorrow for Oliver; the girls started last week. Erin suggested we go for a family lunch at the new Bar Taco in Chapel Hill at University Place, next to Silverspot Theater. The guacamole and tacos and tortillas and plantains were very good, and we'll be back there, maybe on Tuesday nights for dinner and then $8 movies next door.
"I love Cleveland," said Malia, looking up Ninth Street.
We were walking with the crowd streaming out of the mid-day Indians-Rockies game, on our way to the downtown Heinen's supermarket for a quick step in and look up at the amazing rotunda.
And, just as Malia said that, I was thinking the same words: "I love Cleveland." It's gritty and vibrant, proud and personable, accessible and familiar.
The rushed Heinen's stop was homage to Grocery, by Michael Ruhlman. His final chapters recount how the Heinen brothers refashioned that glorious old bank into a unique downtown grocery store. Read the book. Visit the store.
We're here for just a few short days, fitting in that baseball game with Uncle Butch, and then a reunion with Erin's family on the shores of Lake Erie, before we zip back to North Carolina to make final arrangements for short-term tenants to move into our house on the four acres. That house has been a lot of work, and it's satisfying to stand in the yard as darkness falls and the owls start hooting.
The last few months have been a whirlwind.
The Zuiker Family reunion was in Tennessee, with sing-a-longs and game nights, tubing down the Pigeon River, hiking on the Appalachian Trail in the Great Smoky Mountain's National Park, a cousin's wedding, alpine slides, a primer on solar eclipses, my dad's (labor-intensive) meatball dinner, lots of photos and conversation. So much fun.
Then, Nick, my brother, gathered family and friends for his wedding on the beach in Cancun, with Carolyn. Erin and I had just 40 hours to enjoy the Grand Velas Playa del Carmen resort, enough time for the 12-course molecular-gastronomy tasting dinner at Cafe de Arturo. And enough time for piña coladas at the pool bar. We could have enjoyed a few more of those if we'd known that our plane would need its brakes repaired (and that the U.S. Immigration and Customs desk as Charlotte's international airport wouldn't open for another hour, which kept us waiting on the plane). Next time, we'll stay in Mexico until America is open.
Then, more work on the house. And busy days at our day jobs. And kids to camps. But not much excercise because of a couple of toes broken during Sunday soccer a few weeks ago.
Sure, politics has been an undercurrent, at times a riptide trying its best to pull me under and out to sea. I want to ignore the chump who is acting as president, and his band of misfits, but I know I can't fully disengage.
Today, in Cleveland, I woke up next to my lover in the house where 21 years ago we danced in celebration of our own wedding. And now I'm about to step out of Phoenix Coffee here in Ohio City and drive to meet up with Erin and the others in Sandusky, where they are riding roller coasters.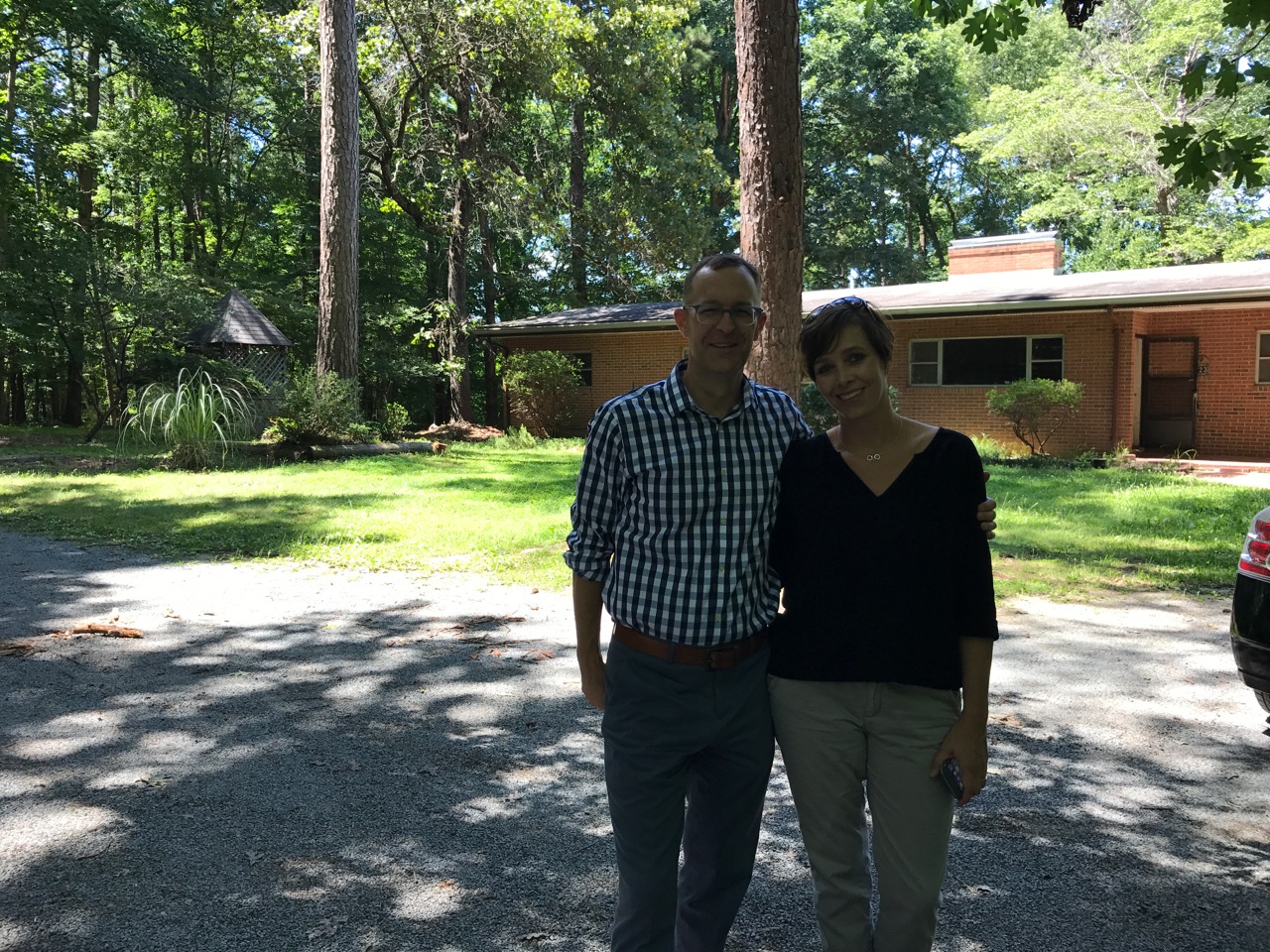 Seven years ago, soon after turning 40 and welcoming my son, Oliver, to the world, I took a new job at Duke, as communications director for the Department of Medicine. A few days before my official start, I jumped in to help the new chair, Dr. Mary Klotman, prepare her first State of the Department presentation. I've helped with each state presentation since, including her final talk today. It was a fitting end to her tenure, and an honor to listen as she sang the praises of the many faculty leaders who make our department so stellar. Now she is Dean Klotman, leading the Duke School of Medicine. I'm staying with the department, eager to continue building on our communications successes; we'll be launching a new This Week in Medicine e-newsletter template, and sending out our first printed Alumni Report, in the coming weeks (we worked with Thinkso Creative, a NYC-based design agency).
Mid week, in the midst of preparing that presentation, a pause to join Erin to finalize the purchase of our new house. Actually, it's an old house, built in 1961, with plaster walls and terrazzo floors and gypsum roof, on 4.1 acres of wooded land in Chapel Hill, NC. Oliver wants a zip line, Erin wants a garden, Anna wants a dog, Malia wants a basketball court, and I want a little writing shed among the trees.