Even with a dozen big trees now gone from our property, there still will be a lot of leaves to fall from the many dozens of oak, elm, maple, and other trees that remain. The last few times I've visited the hardware and garden stores, I've looked over the selection of gas-powered backpack blowers, expecting I'd purchase one so that I can keep the yard clear this autumn. But in the April issue of The Atlantic, James Fallows argues against leaf blowers.
Their high volume, which I had long considered their most salient feature, is only their second-most-unusual aspect. The real marvel is the living-fossil nature of their technology. And because the technology is so crude and old, the level of pollution is off the charts.
Fallows was part of a small group of people and elected representatives to successfully advocate agains leaf blowers in Washington, D.C. Kudos to them for making their communities less polluted with gas fumes and low-decibel noise.
I knew that two-stroke engines weren't great for our environment, but I thought, wrongly, that they were getting cleaner. Fallows set me straight, and that's enough for me to not get one of those backpack blowers. The other facts he shares—about an increase in hearing loss in the U.S. and how a blower's motor will surely damage my ears—settles the case. I'll be looking at the battery-powered blowers from now on, and grabbing for the metal rake that's worked quite well for the last few years.
Kathryn Schulz is a staff writer at the New Yorker magazine, and she's one of the best journalists I've read over the last few years. Her feature about the potential of a devastating earthquake in the coastal Northwest, and her reporting about the stink bug invasion, are perfectly excellent. The March 25 issue includes a shorter memoir about her father's love of books, and how he stacked them up, around, and down the sides of a bedroom dresser.
There's a paragraph in the middle of Schulz's piece about the novel Middlemarch, which her father regarded it the greatest in the English, and others found near it. "I don't know if he had completed either of the other two books, or even begun them. But it doesn't matter, I suppose. No matter when my father died, he would have been—as, one way or another, we all are when we die—in the middle of something." Sublime.
Schulz's description of her father's books took me back to the literary cocoon of my friend Richard Gildenmeister, whose apartment in Cleveland was crammed full of books (and more). That short profile I wrote about him in 1996 is still one of my favorites. I'm glad, too, that I recorded Richard telling me some of the stories about the famous writers he met in his long career as a bookseller. Schulz tells of the stories her father told her when she was young. "I regret to this day that none of us ever thought to write them down."
Erin has kept a running list of the wondrous and humorous sayings of our children. She wasn't with us tonight when, after a long day of travel, Oliver said of this place we've come to visit, "There are so many convenient things here that I haven't noticed before." I heard him later in bed, reading from a book.
Erin alerted me to a heartwarming story about two Ni-Vanuatu women—one a Special Olympics athlete, the other her coach—featured on the Humans of New York site. (Erin tells me Ruby Sinreich alerted her.) Monick, the athlete, won the silver medal for shot put at the Special Olympics World Games in Abu Dhabi.
Anna, our daughter, took up the shot put last year, and is throwing again for her senior year. Her first track meet was last week, with others to come.
I came across Ruby's name earlier today as I searched for an old BlogTogether post. Ruby was one of the first bloggers in Chapel Hill, a regular member of our Chapel Hill bloggers meetup, and a speaker at the first Triangle Bloggers Conference in 2005. I was looking for an event we held a couple of years later, a happy hour in RTP to meet Eric Mlyn and hear about the new DukeEngage program he was leading. I wasn't very good at keeping the BlogTogether site alive, so here's the post archived in the Wayback Machine. I saw Mlyn's name in the Duke River of News this week and learned he is stepping down as executive director of DukeEngage.
While I waited for the zoning inspector to arrive to her desk at Chapel Hill town hall this morning (I needed to check on a permit for some work up at the house), I watched a maintenance man step to the elevator. He looked up, noticed the florescent light was out, and took out his notebook. I assume he jotted a reminder to file a work order or to tell a co-worker to replace the tube.
Later, walking through the hallway at work, I walked carefully past a maintenance man up a ladder twisting a new bulb into a recessed canister.
Back home, I saw the tool shed was unlocked, so I stepped inside, wound up a long extension cord I'd tossed inside over the weekend. I reached up and turned on the BioLite SolarHome unit I'd charged with the good sunshine Saturday.
I have a light turned on here on my desk as I write this blog post. The rest of the house is dark, the family all in bed.
Electric lights are wonderful.
So is tonight's super worm moon. Like many nights, I will step out the front door to look at the starlight and moon's glow, listen for owls and coyotes, and breathe in a moment of peace, then go off to sleep and dream.
A colleague today gave me an update on myRESEARCHhome and the navigators service, two ways Duke University (with funding from the National Institutes of Health) helps scientists and physicians in their research activities. The navigators are people just waiting to help an investigator find the right resource or understand the correct process.
That update reminded me of my Grandpa Sisco, our family navigator who shuttled us around town and to and from the airports and always had the right resource for us—except that one time when I was in high school and I asked him for a mousetrap.
"I don't have any mousetraps," he reported. Later that night, he stopped by our house and handed me a brown paper bag with two new mousetraps. For the next 20 years, he always had a spare mousetrap in his desk drawer.
I was reminded of Grandpa Sisco a second time today during a presentation by a former chief communications officer for Mayo Clinic. Grandpa had been diagnosed with prostate cancer in small-town DeKalb, and his physician referred him to Mayo. The treatment worked, and Grandpa lived an active life into his 90s.
In January, when Anna and Malia accompanied me on the trip to Chicago, we flew Southwest Airlines. The flight from Raleigh-Durham to Midway was on a very new, nice, and comfortable airplane. I remember telling the girls how nice it was to have so much leg room. The plane was a Boeing 737 MAX 8.
That plane, and all Boeing 737 MAX 8 planes around the world, are grounded as officials study the cause of the crash of Ethiopian Airlines flight 302 on March 10. The Seattle Times has published its investigative reporting about the way the 737 MAX 8 was certified by the Federal Aviation Administration. Aviation crash investigations take time, and the truth may emerge differently than we think we understand the causes and effects today.
I've loved Boeing jets since I was a boy, watching 707s take off from the Phoenix runway and touring the Boeing visitor center on a family trip from our home in Idaho to Seattle in the late 1970s. (I was a Seattle Supersonics and Dennis Johnson fan at the time; a few years ago, I met the parent of Anna's classmate, who turned out to be UNC standout Tom LaGarde, also a member of the 1979 NBA champion Sonics.) Even my post about our trip to Australia gushes about the Boeing 787 Dreamliner.
I'll be in the air again soon, hoping for a safe flight and wishing for that spacious seat on the MAX 8. Let's hope the aviation regulators, experts, and engineers find their answers and solutions so the airplanes in the skies are safe for all.
Every two months, a new issue of dwell arrives in the mailbox, and I eagerly sit down with the magazine to read about cool architects, artistic individuals, and the modern homes they build around the world. I'll invariably see a cool cabin or Scandinavian sauna or sleek wood-burning stove, and I'll be off on a couple of hours of searching and surfing to find out more. I am keen to build a writer's retreat out on the back part of our wooded lot, and I dream.
A new issue arrived yesterday. I read it on our back deck in the warm sunshine, and was soon learning about the MINIMOD Spot, a perfect contender for the retreat except it's only available in Brazil and Uruguay, and then I found myself looking at the Muji Hut, but that's only available in Japan. The Danish wood stoves I could probably get, but they're expensive. Good architecture and design and craftsmanship should be well compensated.
I know a few architects, and have met others, so I suspect that in the end I'll turn to one of them to solve this itch. Maybe our Peace Corps friend, Kevin Anderson. Or Nick's sister-in-law, Carina Coel and her Austin-based all-women firm Restructure Studio, which just announced their Arbor Plans project to offer "green-by-design, ready-to-build architectural home plans and Accessory Dwelling Units." Or Dot's son, Nathan Hutchins, though he's designed posh hotel interiors and his firm, Muza Lab is way out of my league.
As I said, the writer's retreat out back is a dream, and a rabbit hole I'll keep diving into.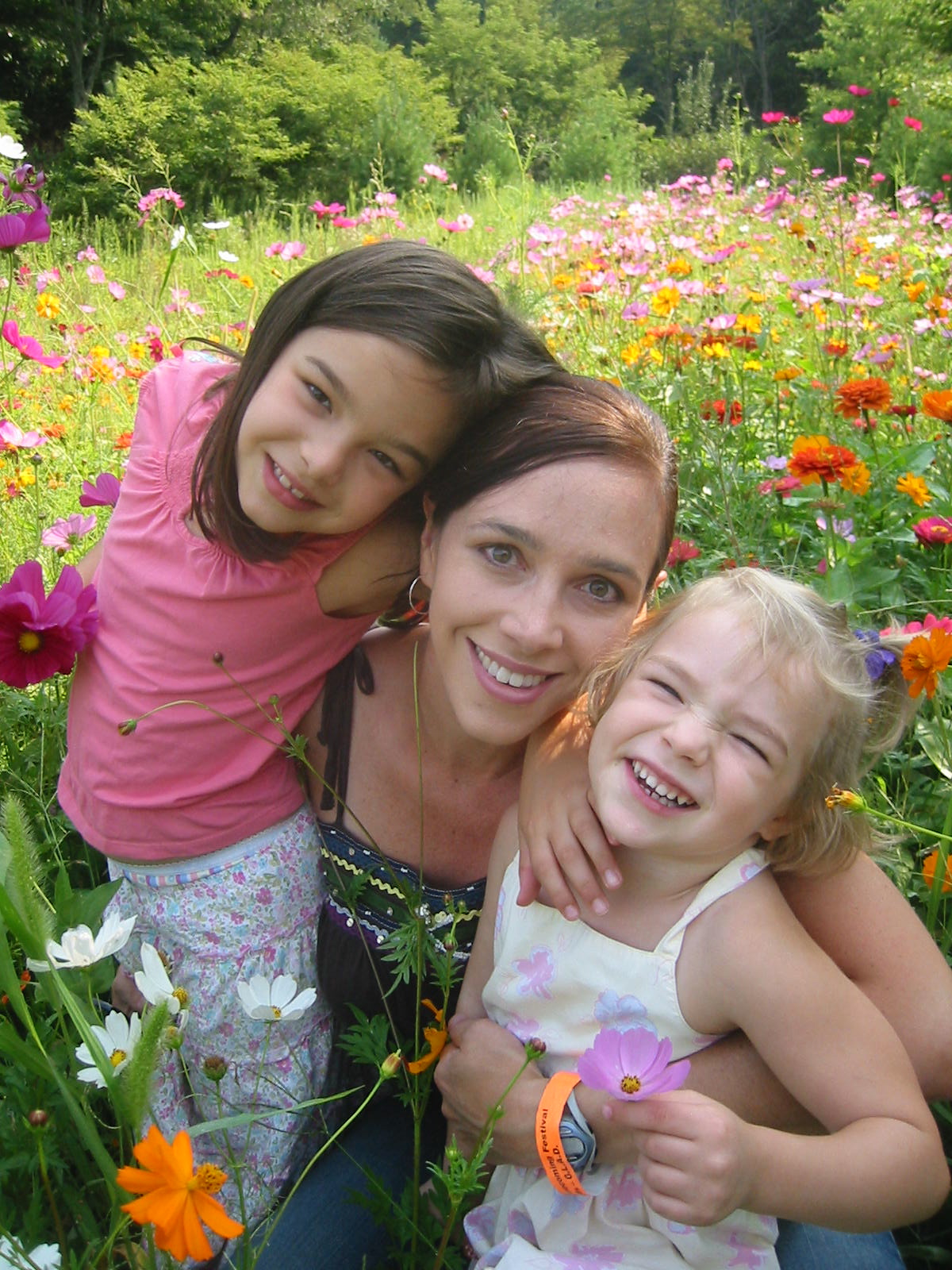 That Dan Barber TED talk reminded me I hadn't been to the Carrboro Farmers Market in many months, so this morning Oliver and I took a short drive over there. We got our treats, cherry babka for me and cinnamon roll for him, and I bought a small pot of bloodroot and a some other items.
Back home, I spent the day outside, redistributing the firewood and limbs, hauling rocks across the yard, raking leaves and dirt as we toil to make the ground around the house ready for grass. We had help today from a guy who does a lot of projects for us. Today he brought a tiller to work the ground, and I asked him to prepare space near the garden boxes where I could plant the wildflower mix that's been in the shed since last year.
The photo above is my all-time favorite, taken on an August afternoon in West Jefferson, North Carolina during a vacation in the mountains. We stayed at the home of one of Erin's law-school classmates. The South Fork of the New River ran through the back yard, and the family had a large swath of wildflowers that was simply heavenly. I've wanted to recreate that slice of heaven ever since.
The bloodroot I planted near the giant white oak tree.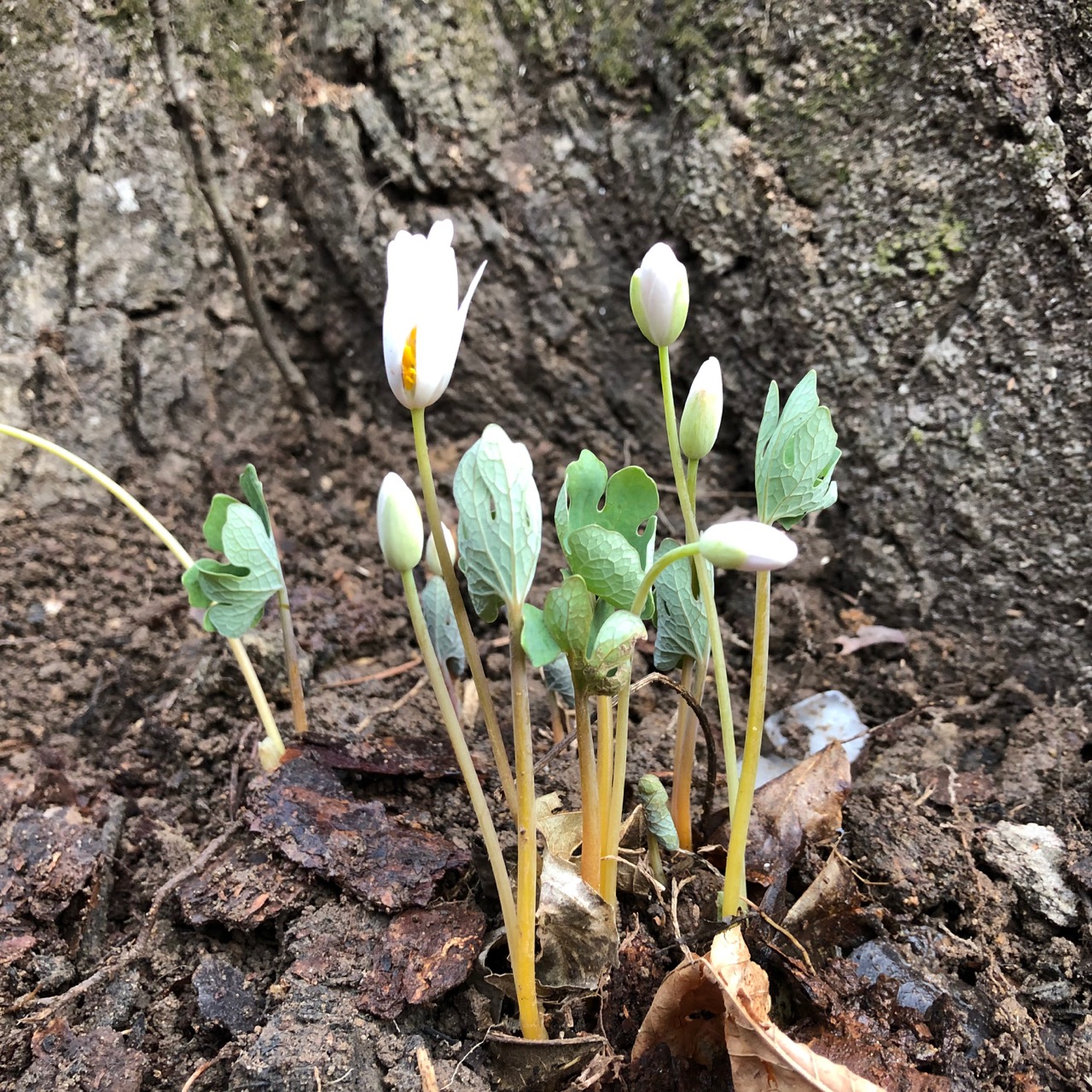 Match Day over and the work week done, I came home, retired to the sofa, flipped on the television, and found a TED talk to watch: Dan Barber on How I fell in love with a fish.
Erin joined me in the living room to listen to Barber talk about truly sustainable fish farming in Spain.
I mentioned to Erin that Barber's book was one of the best I'd read in the last 10 years. I found it in the library and handed it to her.
"I haven't seen you reading this," she said.
"It's been awhile," I said. "I read it that year I was quiet."
The quiet year was my blogging and social media sabbatical, when I read a lot, got outside often to breathe, walk and run. Eventually, I wrote a 3,000-word essay that I thought would be a good way to explain what my reflection had helped me realize, but then I boiled that down to less than 300 and made that my Zuiker Chronicles redux post.
Holding Barber's book again tonight, I tried to remember what I'd written about Third Plate. Here are two sections of that longer essay, with the themes and references that have made it into many of my blog posts since.
∷
From the bookshelf, I took down the paperback copy of Blue Highways, by William Least Heat-Moon. This was a book I started in college, but never finished. A classic of narrative nonfiction, it's a journal of Least Heat-Moon's getting out—his university sabbatical and journey across America, and a chronicle of conversations he had with people in small-town cafes and roadside campgrounds. I recognized many of the places on his journey, geographical but also emotional. I devoured Delicious, a novel by food writer Ruth Reichl, with a protagonist who is mentored by an old-school Italian deli owner who takes his sweet time to talk and listen to his customers. I take time to read, take my time reading, Capote, McCann, Mitchell, Patchett, Steinbeck, Cervantes, Finnegan, Boo, and others.
Blue Highways made me want to get out and travel. The Rural Life, by Verlyn Klinkenborg, made me want to sit down and watch. Klinkenborg reflects on small details and routine activities on his weekend farm in upstate New York, in short essays that are insightful and meaningful, just the kind of writing I'd always wanted to do myself. Klinkenborg is a professor of creative writing, and his newest book is 'Several short sentences about writing.' To write as clearly as possible, he advises, be observant, reflect on what interests you, and, above all, notice what you are noticing. Or, "See what you're looking at," chef Dan Barber quotes wheat farmer Klaas Martens quoting soils professor William Albrecht, in Barber's excellent The Third Plate meditation on the future of food. Sitting one afternoon on my favorite stone bench in the Duke Gardens, I watched a great blue heron hunting slowly in the stream. The bamboo rubbed and rustled gently in the breeze, and slow deep breaths filled my lungs with warm Spring air. After a while, I noticed that I felt no need to rush that image out to the world. What I was looking at was mine, for just that moment.
∷
The TED talk over, and the Duke-UNC game still to start, we watched the stunning documentary Free Solo about Alex Honnold's climb up El Capitan without any ropes. An amazing feat.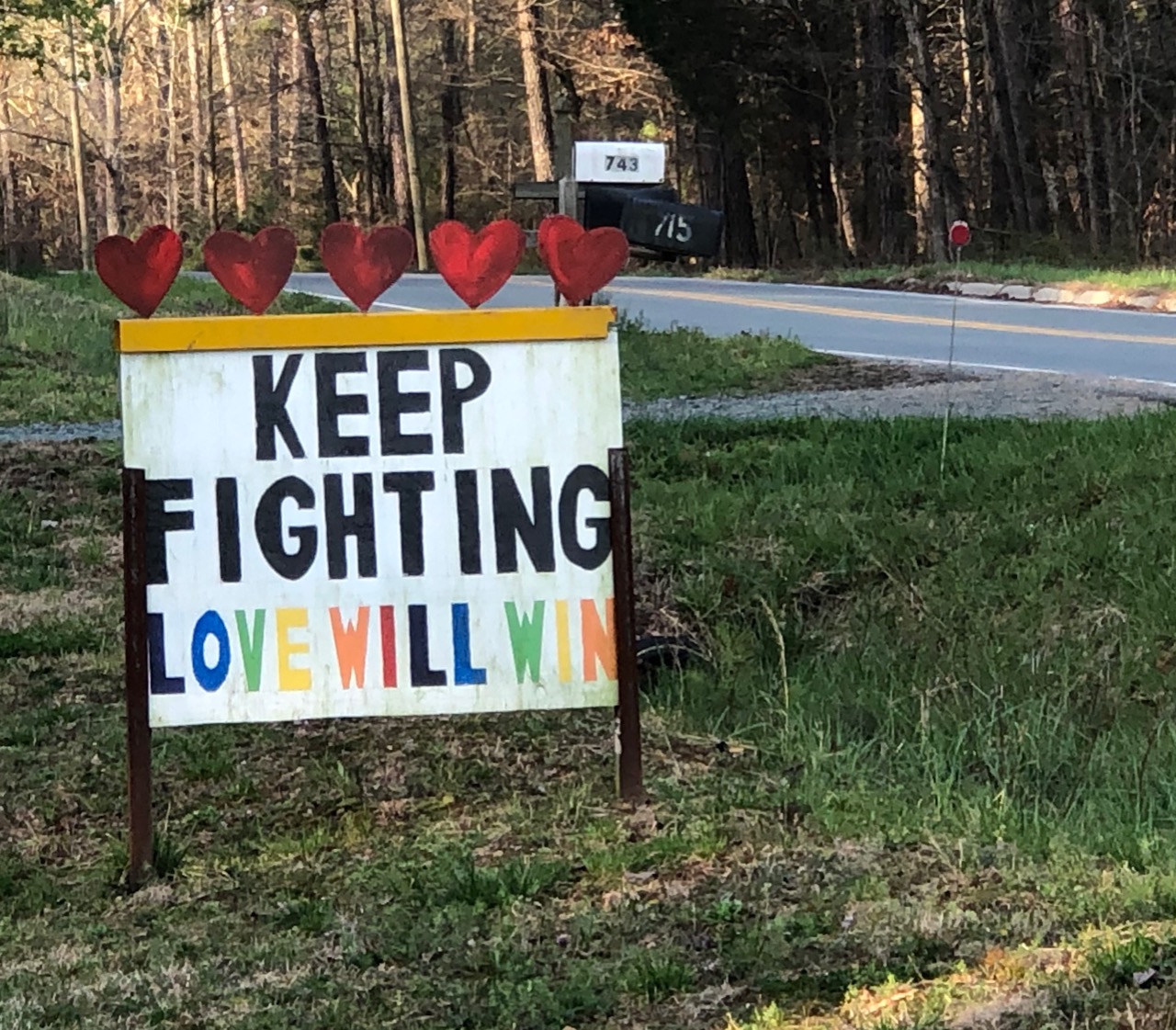 Rob Walker is a journalist who covers design, technology, and other areas. I learned about him when Jason Kottke linked to his forthcoming book, The Art of Noticing, a compendium of exercises and practices to "spark creativity, find inspiration, and discover joy In the everyday."
Or, as Verlyn Klinkenborg would say, "notice what you're noticing."
I'm looking to see how we might incorporate Walker's ideas at Duke, and his representative sent me a review copy of the book. I'm liking it, and I'm sure I'll read through it page by page over the next week or so, but I also have the sense many of these practices will be part of my next decade of observation or listening or awareness (or whatever I end up calling it).
I subscribe to a newsletter from Walker with ideas and links related to his book and ways to practice observationn. In the latest edition of his newsletter (#13), Walker writes about an iconic New Orleans po-boy restaurant and how it's a landmark by which to direct others.
Brooding over this later, I got nostalgic for the days of giving and receiving oral directions: "Stay on that road for about a mile, until you see a place that obviously used to be a Shell station but now isn't anymore, and turn left just after that." Nobody has to say things like that — "Look for a place to park as soon you see the big pink po-boy restaurant; you can't miss it" — because everybody just expects that everybody else will let their phone tell them how to get wherever. I really can't remember the last time someone said "You can't miss it" to me!
Ah, but we still use a landmark to help people find our house in the woods. When friends come to our house, we tell them to look for the sign that says "Keep fighting, love will win." The sign is on the side of a busy road and makes it easy to find the gravel road that brings you to our house. The sign became even easier to spot last month, because the artist who lives in the house with the sign added a row of red hearts to the top.
Last summer, during our 48 hours on Paama, we walked with the family up to see the gardens. Redy and Priscilla and Yannick and the kids knew every coconut tree and hillside and kava plant. At one point, a tree had fallen across the path, and we stopped to have a discussion about whose tree it was and how recently it would have toppled (the previous night) and when the yams nearby were last planted. I noticed their attention to the details of their island and their community, and that's reminded me to look more closely to what's on our four acres here in Chapel Hill. If you drive up the gravel road some weekend afternoon, you might find me out back, swinging in a hammock. Just look for the dead cedar tree nestled between the trunks of two oaks.
I'm lucky. Once a month, I get to walk across the Duke campus, stop in front of the Pratt School of Engineering to meet a good friend, and together we walk to the food court for lunch and conversation.
That friend is Mark Schreiner, who I first met in 1989 at John Carroll University. Mark has lived in North Carolina about as long as I have, and he came to work at Duke just a few months after I did. He's a writer and communicator like me, also a former journalist and history buff, and I always walk back to my office educated and informed about something interesting. Today it was the origin of President Roosevelt's famous fireside chats and how new faculty at Pratt give their Teer Talks.
Mark gives me an update about his family and tells me about his volunteer activities. These days, he's an on-air host at TheClassicalStation.org and can next be heard coordinating the Concert Hall program on Friday, March 22 from 7 p.m. to 10 p.m. EDT.
Scott Huler was on WUNC's The State of Things today to talk about his new book, A Delicious Country. Listen here.
Scott is a great reporter, writer, and storyteller. He's a very energetic speaker, which he proved again tonight at Motorco for the monthly Periodic Tables science talk. Scott was there to tell us about the route of John Lawson's 1700 expedition through South Carolina and North Carolina, and what Scott observed and noticed and experienced on his retracing Lawson's path 210 years later: "There's nothing as comforting as a house with laundry on the line" and "the sky party that the coast throws" were just two of his colorful explanations for the photos he showed.
I bought the book, Scott inscribed it to me, and I drove home thinking about the stories I want to write. Scott is a good friend of mine, and he continues to entertain, educate, and inspire me.
See The Lawson Trek website for more about the book, and to read the blog that Scott wrote during his paddling, walking, camping, and conversing across the Carolinas.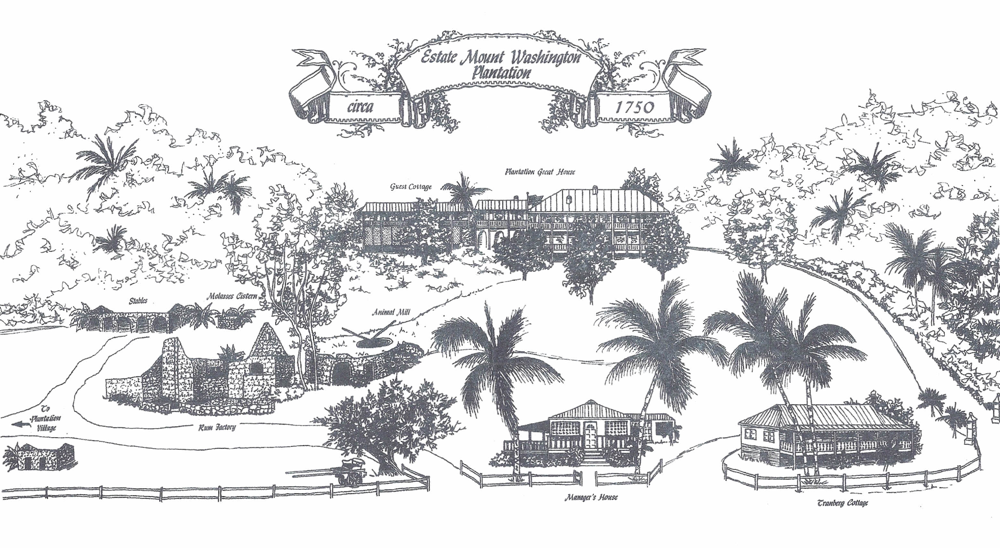 In yesterday's NYTimes Travel section, Jessica Francis Kane writes about the Mafolie Great House that was owned for a time by her grandparents. Kane travels to St. Thomas, in the U.S. Virgin Islands, in search of the place with the famous view and the story of what happened to the house since her father moved to the Mainland and her grandfather passed away. It's an interesting slice of memoir, even if you don't have a connection to the islands.
Kane stayed at the Mafolie Hotel overlooking Charlotte Amalie. I know that hotel well, because during my two winter-break trips to St. Thomas—my father moved back there when I was in college—I would stop by the hotel to hang out at the swimming pool, drinking soda and reading Arthur Conan Doyle.
At the NYTimes site, Kane's article generated a lot of comments, many pointing out the sad legacy of colonial sugar plantations that were dependent on slavery, and the subsequent poverty and racial tensions in the Virgin Islands.
Erin and I have taken our children to the Virgin Islands three times to visit my father and stepmother, who spend time on St. Croix when they're not in Hawaii. Dorothy Hutchins—Abu Dot to us (abu means grandparent in the language of Paama)—has lived on the Frederiksted side since the 1970s, and she's shared her considerable knowledge and passion for the island and its culture, people, and places. Just over the hill from her house is Estate Mount Washington, a restored Danish cotton and sugar plantation. We've walked over there a couple of times, to snap photos against the picturesque old stone walls but also to discuss the nuanced history and all its pain. When we go to Christiansted, on the other side of the island, we always visit the fort where Alexander Hamilton's mother had been jailed, and we climb down into the dank dungeon where runaway slaves were chained. A couple of years we've accompanied Abu Dot to the March 31st Transfer Day ceremony marking the handover of the Virgin Islands from Denmark to the United States.
Another time, Dad and Dot drove us up Creque Dam Road to see the old reservoir. (The name Creque comes up in Kane's St. Thomas article.) We crawled with our children out on the dam to sit in the middle and look down on the water weeds blanketing the collected water. Crucians go up to wash their cars with that water. We walked up the road and swung from the roots of banyan trees.
I hope to get back to St. Croix again soon. Dot's son, Aaron, is a partner in Leatherback Brewing Co., and I want to sit in the sun enjoying their island brews and learning more about the islands.
During my blogging sabbatical of 2014 and 2015, when I didn't want to draw attention to myself, my wardrobe went white, gray, and black. It was easier to be monotone, and it matched my mood.
Eventually, though, I began to take notice of the colors of the world. I inched back into blogging; my first few posts featured Malia's colorful illustration of our Caribbean vacation and my snapshots of back-eyed Susans in Cleveland and roadside goldenrod in North Carolina. Soon enough, my closet was filled with coral chinos, red linen shirts, and for work, blue oxford shirts. I also bought an orange tie that always seems to get a compliment.
Doing the laundry one day, Erin noticed a sameness.
"Don't buy another blue shirt," she told me that night, confirming the nagging feeling I'd been having when I get dressed for work each morning.
So, today, after brunch with friends and then Oliver's basketball game, I drove with Anna and Malia to the mall. We split up, and I went to my favorite store to make use of the 50% sale. (A gimmick, since what I pay for a discounted shirt today is more than what a full-priced shirt cost just a few years ago.) I walked out with a few new shirts; one is a cool blue pattern on white.
Walking to meet the girls, I had this memory of the mall my mother used to take me to in Idaho (the one with the arcade.) and the taste of those visits—we always went into the Orange Julius shop for a frothy, sweetened orange drink. I hated shopping for clothes, and I think mom made Orange Julius a regular treat because it made the mall trip bearable for us both.
The color orange followed me from Idaho to St. Croix to Illinois, where I found myself in a high school with the colors black and orange. I put orange shoe laces in my black oxford shoes last week, and in doing so, one of the eyelet tabs fell off. Until then, I had never noticed that the little ring tabs were on the underside of the vamp, and until I just looked up the definition of Oxford shoe, I didn't know that the underside ring is the defining characteristic of that shoe.
From Orange Julius to Oxford shoes. Fascinating where a memory will take you.
I spent the morning out back, raking the yard of all the debris from the tree work and all the leaves laid down over the last decade. The pileated woodpeckers were active in the branches above. I'm physically drained.
Inside, I joined Erin and Anna to watch Instant Family, about a couple fostering a trio of siblings. I laughed-cried-laughed-cried, tears down my face the entire movie.
Then, a date with Erin to the Home Depot for grass seed and weather stripping, and the grocery store for ingredients for brunch with friends tomorrow. Along the way we talked about our own fostering experience a few years back, something I've not written about for a number of reasons.
We work hard, get our hands dirty, laugh heartily and love unconditionally, and plant hope where we can.