Oliver mentioned again over dinner the other night that he wants to take up the drums. We asked him to focus on his saxophone, but he insisted he is interested in the drums.
At that, we told him all the ways he could show us he had a drummer's rhythm without us buying an expensive kit that he might use a few times and then forget: he could slap the small djembe we've had in our house for 20 years, or he could bang on an overturned plastic pail, or he could even get some bamboo and tap on it with a flip-flop.
I pulled up a YouTube video of Futuna Fatuana to show him how the ni-Vanuatu make music with bamboo and with glass bottles filled to various levels. I once brought that troupe to Paama as part of a music education project I organized. I also paid for the generator to run one night so I could show the students (and their families from the surrounding villages) the video Stomp Out Loud. (In Cleveland, before we set out for the Peace Corps, Erin and I had seen the touring music show Stomp.)
Here's what I wrote in my Peace Corps Description of Service document (a final report before a volunteer closes out his/her service):
Peace Corps Vanuatu offered a Small Project Assistance grant in 1998 to support Anton's What A Bang! music education project, which brought a popular "stringband" from Futuna Island to Vaum Junior Secondary School to demonstrate instruments made with local materials (e.g. bamboo, empty Coke bottles, and rubber sandals). To this day students improvise music on handcrafted instruments such as ukulele, tin can drums and bamboo whistles. VJSS has begun to collect and use various musical instruments for music education and class sing-a-longs.
After dinner, Oliver retrieved paint cans and plastic pails fro the shed and made himself a makeshift drum kit in the laundry room. He banged on it for an hour or so and called it a night. The laundry room has been cluttered with the kit for the last few days. After his soccer practice yesterday, we were driving past School of Rock—I mentioned he should take an introductory drum lesson, and he quickly found the company's website and requested more information.
I'm nearing the second anniversary of my job switch, and I'm happy to report that it's been a great two years. I'm thoroughly enjoying my work at the Duke Clinical Research Institute on the RADx Underserved Populations project.
Last week, the Duke School of Medicine Magnify (an online news site) featured No More Guessing, a story I wrote about the Pediatrics faculty at DCRI. That group's growth over the last 15 years is impressive, and my job is directly tied to their success in "running multi-site pediatric clinical trials and … managing major coordinating centers."
A roundup of the last couple of weeks:
Erin and I have been rewatching Treme, the series set in post-Katrina New Orleans. Music and musicians are a key thread through the series, and a good reminder of what the city has given to our country.
Treme inspired me to look at the Cat's Cradle calendar; Anna and I went one Friday to see/hear Blue Cactus at the Cat's Cradle Back Room.
The next night, the family went to a backyard party at the home of Steve and Rebekah Vaisey. Their daughter, Deliah, has been recording tracks for an upcoming EP, and she performed some of her songs, with her father and brothers backing her up. Find Deliah on Spotify under Delia-h:
After Deliah and her family finished their set—they were very good!—the stage became a karaoke playground; my children sang Sweet Caroline and had everyone up on their feet singing along. Another guest sang Blue Monday, by New Order. On the way home, I told my family about the time I and four buddies performed a dance routine to that hit song. Our routine was choreographed by Danielle Crawford, we were dressed in cheerleader outfits (this was a somewhat-serious spoof of the very popular DeKalb High School girls dance team), and we got a big cheer from the student body in the gym.
Matthew Butterick, a lawyer/designer/coder who designed the fonts I use on this site, occasionally writes (and designs) long, thoughtful, connected essays. His latest is Power, Corruption & Lies and in it he focuses on the album cover designs of New Order. It's a fascinating read.
Last week, Erin and I went to the Durham Performing Arts Center to see Aaron Sorkin's adaptation of To Kill a Mockingbird. The cast was excellent, and the dialogue crisp, but I still came away unsettled by the story and the reality of racism's deep, deep roots in this country.
We hosted a backyard party of our own this weekend to celebrate Malia's graduation, and we ended the evening with karaoke under our carport. Oliver and his cousin Ginny hogged the microphone but did let me and my friend Jon sing Solsbury Hill.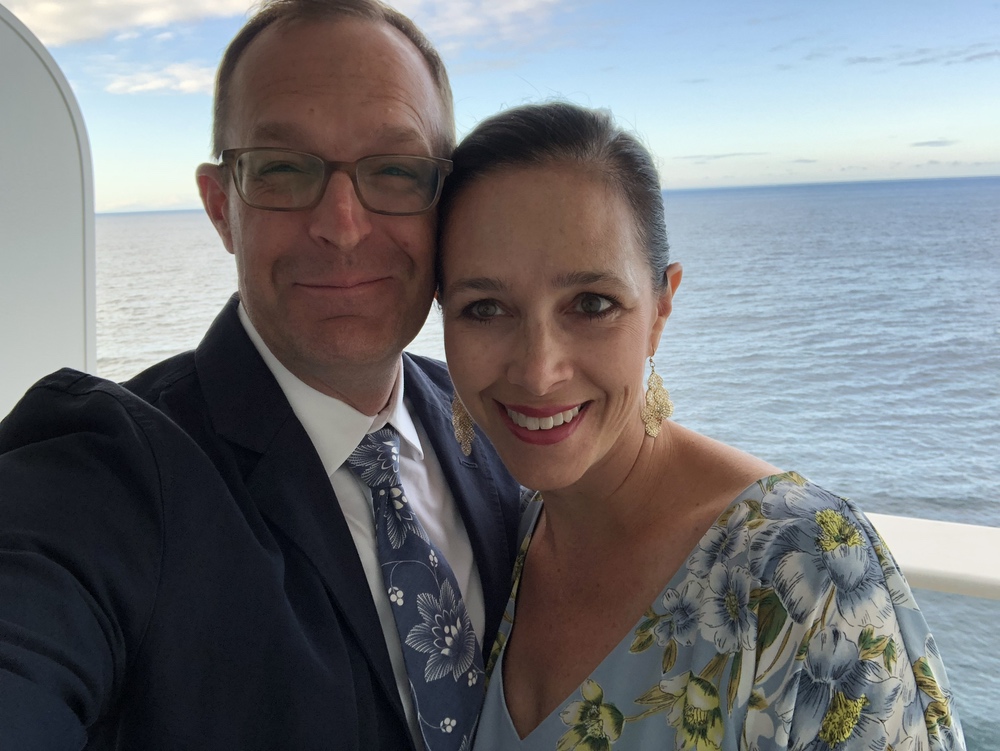 Erin and I took a cruise vacation, from Seattle to Alaska and back. We had fun visiting glaciers, hiking along the water, watching for wildlife, and shopping in the towns. We also had one of the best date nights ever. Then we got COVID. But, first, a story from Provence.
Closed for inventory
In 2016, Erin and I celebrated our twentieth-anniversary in France, including a delightful stay in the seaside town of Cassis. On one of our last days there, Erin and I walked from Maison º9 into town and up the hill to Clos Sainte Magdeleine, a winery with beautiful oceanside vineyards that produce delicious white and rosé wines. When we got to the door of the shop, though, a sign announced that it was closed for the week but to pull the metal rod should you need the proprietor. I turned on my heels, disappointed and ready for the walk back.
Erin, better than me in so many ways, reached up and rang the bell. We waited.
A few minutes later, a young woman opened the door, explained that she was busy taking inventory, but she'd be happy to show us in, give a glass of wine, and sell us a few bottles.
Erin proved how good things can come to those who "ring the bell." Ever since, that's been the phrase we use in our family conversations to encourage our children to step up and seize the situation (with a knowing nod to my indecision).
Take a cruise
Erin and I have traveled the globe together and with our children, but we long resisted the idea of taking a cruise. There's no way I wanted to get norovirus or jostle with thousands at the buffet. But as Erin gets closer to her fiftieth birthday, and with only a few states left until she's visited all 50 of them, she booked a family cruise to Alaska—for summer 2020! COVID canceled that cruise, but the cruise line wouldn't refund the full fare, so we held onto the credits. When we learned the credits would expire later this year, Erin realized we would be on our own this summer as Anna was in nursing school, Malia would be a camp counselor, and Oliver would be at back-to-back sleep-away camps.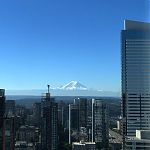 Erin decided to book the cruise, and so off we went on an evening flight to Seattle, unplugging from our work and the new-house project, hoping that Anna and Malia and Oliver would be safe and well for the week. My task had been to arrange a hotel room, but I nearly blew that, realizing a few days before departure that the reservation was off a week. The new reservation I made, correctly, was in the Hyatt Regency Seattle, and we woke on a Sunday morning with a glorious view to Mount Rainier. We enjoyed breakfast (and bought a couple of bottles of wine for the cruise) at Mr. West Café, and then hailed a taxi to the terminal where we joined the queue and eventually found our way to our stateroom on deck eight.
As the Odyssey of the Seas began the long sail north to Alaska, Erin and I enjoyed a champagne toast on our deck. For the next two days at sea, we walked and talked, relaxed in the sauna and steam room, read books, dressed up to go to dinner at the restaurants on board (one night a somewhat-molecular-gastronomy meal, another night good sushi!).
At our first stop, Icy Straight Point, we walked past the cruise companies' center of activities and on into the village of Hoonah with plans to get lunch at the Fisherman's Daughter. As we approached a group of Tlingit carvers working on a totem pole, Erin's phone rang. Back in North Carolina, Oliver was about to be sent home from camp, sick with fevers (a counselor in his cabin left the previous day with COVID, and other campers were leaving with influenza). With reception in and out, Erin managed to make a plan and give instructions to Malia to get him home. We kept walking.
We were passing one home when a woman walked around to her SUV. She was holding an empty white board, her toddler and a German shepherd at her feet. We said hello, and she asked if we had plans for the day.
"I happen to have two spots left on our five o'clock whale watching tour," she said.
Erin stepped toward her and rang the bell, the woman put down the white board without needing to write a thing, and a little later—after halibut tacos at Fisherman's Daughter—we were on the Thor Too with the woman's husband, Joardan, guiding us into the strait in search of whales. Over the next two hours, we observed humpback whales, seals and sea lions, and sea otters. At times the boat drifted silently. We waited, marveling at the scenery, and minutes later the sounds of a whale exhaling nearby would redirect our gaze to see the mist of the whale's breath floating away, and then the tale flip up and slowly out of sight.
The next day, off the ship in Skagway, we climbed into a small helicopter that gently lifted us into the air above the fjord, along the mountaintops, and onto Mead Glacier. For 45 minutes we wandered the glacier with a guide, learning about the river of ice and wandering rocks and dangers of the crevasse. I lay down to sip from the icy meltwater. I thanked Erin a hundred times that day for arranging that excursion. She'd wanted a helicopter ride to rival the ride we got on Paama and this was it.
A third day, in Juneau, with no pre-planned excursions. I'd looked at various ways to get from the dock to Mendenhall Glacier, in the Tongass National Forest, but once again it was Erin who took charge and called a taxi company. Skyler Mazon with Juneau Taxi pulled up in a van a few minutes later. On our way toward the glacier, we were looking at eagles up on the light posts when Skyler pointed to grassy marsh and a black bear, and then another! His excitement at seeing the bears made the day a success in itself. And then we had a few hours to hike in the park, learning about how much the glacier has retreated in the last hundred years. Skyler returned to get us and in Juneau he left us out to walk into Cope Park, a gem of a city park with a rushing river and tall pines.
As the ship sailed away from Juneau, we watched three paragliders soaring high above. One descended sooner than the others, landing on the tidal beach as we passed. A little later, a bald eagle glided by, and then another, and another.
After nearly two days of sailing back south, the ship put in at Victoria, British Columbia, for the shortest of the stops. It was late Sunday afternoon but the place was bustling and beautiful and warm. We dressed up and walked into town for a delicious meal at the Tapa Bar Restaurant (ceviche, shrimp in coconut milk curry, grilled carrots, chile relleno, shopped on our way back toward the dock, and stopped for wine and tiramisu at Il Cove Trattoria. Erin was gorgeous, we were relaxed and having fun, and this was one of the best dates ever, making me damn glad that I'd decided almost instantly to marry Erin when I first met her in college.
Jubilant
In January 2002, Erin and I went on a date to Raleigh to hear Jubilant Sykes sing with the NC Symphony (we'd seen him perform the year before in Cleveland as part of an MLK concert). After the concert in Raleigh, Sykes came to the foyer to meet a few of us who had waited to buy his CD, which I would end up playing for Anna, still an infant at the time, over the next few years.
One of the songs on that album: Ring Dem Bells, an angelic cover of the oh-so-good Ring Them Bells by Bob Dylan.
And,
COVID
Back in Seattle early on Monday morning, Erin and I got a taxi to nearby Magnolia Village, where we parked ourselves and our luggage in front of Petit Pierre Bakery. As soon as it opened, we got the delicious pastries (one of the best pain au raisin ever), and sat at our table watching a stream of arriving customers. Soon, Kara Jackson, our fellow Peace Corps volunteer, walked up to join us. Kara is associate professor of education at the University of Washington (her field is math education), and I hadn't seen her since 1999 in Vanuatu. Later, she and her family would take us on a hike around Seattle's Seward Park in Lake Washington, and after lunch at their home, Kara took us to the airport.
Then we flew home to North Carolina, where Oliver was recovering from pneumonia. At the airport, as Malia pulled around to get us, we learned that her school trip to Chicago later in the week would be canceled because the hosts there had COVID. That should have been a warning to us, because two days later, Erin and I tested positive for COVID (the same day that President Joe Biden tested positive), and for the next week we were knocked down by the illness; one day, with fever and chills and my body aching about as bad as when I had dengue in Vanuatu.
But now I'm healthy again and back to work and projects around the house, and without the COVID fog I can recall the Alaska vacation and tally all the ways that Erin made that trip so special. More than ever, I am grateful for Erin. We will mark 26 years of marriage on Aug. 10, and I hope to sail through many more with her.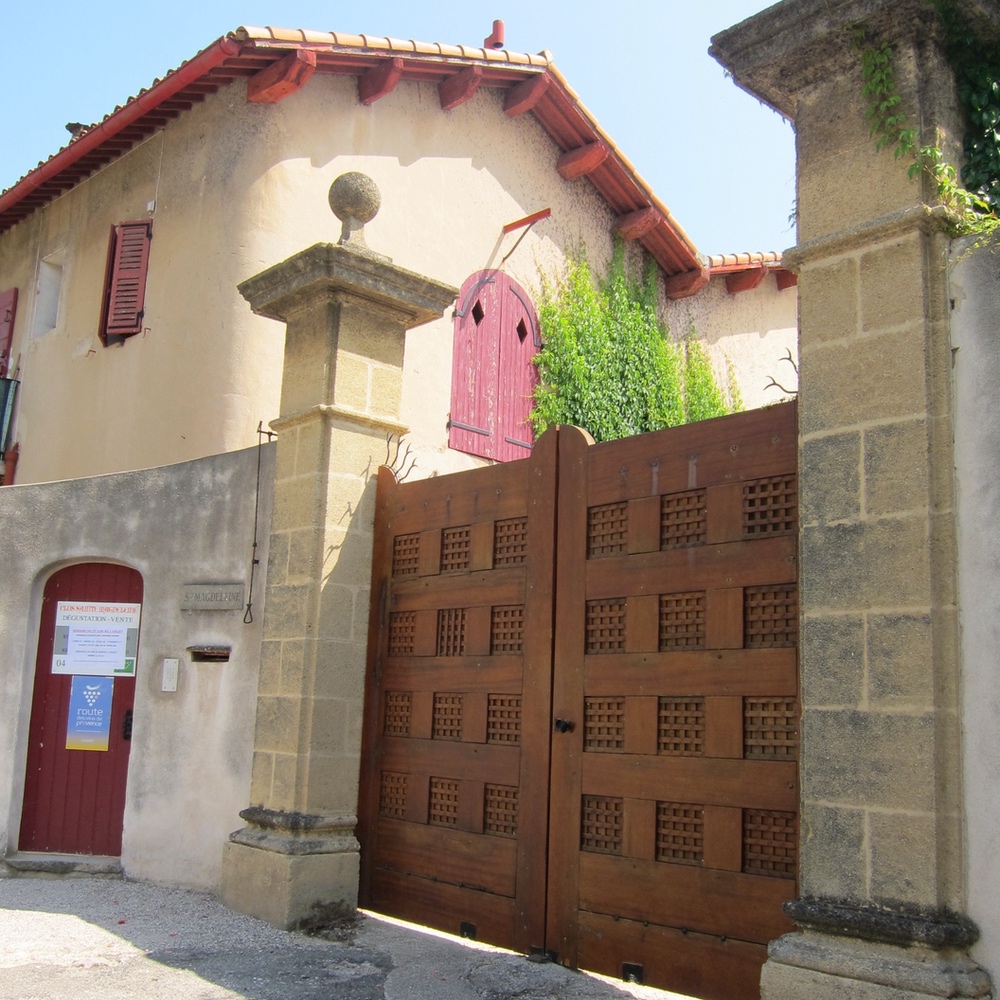 Malia graduated from Carrboro High School last week (in a ceremony held in the UNC-CH Dean Dome). As student government vice president, she had the honor of addressing the student body with an upbeat welcome message (along with the president) and then, at the end of the ceremony, leading the class in the turning of their tassels.
I'm very proud of Malia. She weathered the interruptions of the COVID-19 pandemic that made the last few years tough on all students, and she finished with high grades and accolades from her teachers and school administrators. She also gave our home a constant buzz of activity, especially during her senior year when so many of her friends came by each day for lunch.
Malia is smart, sensitive, kind, and passionate about societal issues and world events. In the fall she'll be off to American University to study international service. Washington is the perfect place for Malia and we know she will excel there.
Back when she was applying to colleges and expressed her interest in American, I had a hunch that there might be an interesting connection to that university. I was born nearby, at the Georgetown University Hospital, and I remembered that my mother had a relative who worked for the State Department around that time. Joseph Sisco, who I think is probably a cousin of my grandfather—I've spent a few hours trying to find the connection, but I haven't been able to fill in the family tree yet—was a diplomat who served under Henry Kissinger in the Nixon Administration.
I called up my father, and then later my mother, and they both told me the same story: In 1970, just after I was born, and before we moved to California so my dad could help a friend run for Congress, they took me to Foggy Bottom and stepped into the reception area of the State Department. My mother asked the receptionist to call up to Ambassador Sisco to let them know we were downstairs, and sometime later he came down for a chat. I imagine he patted me on my infant head, asked about my grandfather and listened to my dad talk about his Peace Corps service in the Dominican Republic and my mom's teaching in the District, and then he quickly said goodby and returned to his office upstairs to solve another crisis in Palestine or Egypt or Cyprus. This obituary in the Guardian chronicles his important role in Mideast tensions of the 1970s.
After Joseph Sisco retired from the State Department, he served as president of American University for five years.
It's wild to think, as we mark 50 years since the Watergate break-in, that my head was touched by a hand that shook the hand of Kissinger, whose hand shook the hand of the soon-to-be-disgraced Richard Nixon.
More importantly, now my child is headed back to D.C. to start her own career in international service.
Last year, I wrote about the enjoyment I got in reading Kissa by Kissa, a beautiful book by Craig Mod.
One of the photos that Craig featured in the book was The Tomato Farmers, which he is now offering in a limited edition print. Since his book was so well designed and made, I have no doubt this print is high quality. Even better, it comes in its storage bin: a kiribako, or paulownia wood box. Craig quotes from a historian of Japan to explain that paulownia wood boxes have been used for a long time to store art.
Paulownia? I recognized that word. As Wikipedia explains, it's the scientific name for a genus of trees, and here in North Carolina the princess tree is considered invasive.
Over the last few years I've been cutting down the princess trees I find on our land. I look for fallen leaves, which are quite large, or I search for trunks that look like tulip poplar trunks and then I peer up to identify the branches that grow opposite each other. Thankfully, there aren't a lot of these princess trees on our property — less a dozen, though a few quite large — and once I drop them down with the chainsaw or axe, the trunks are easy to split into firewood that burns clean and hot. It doesn't take long for the roots to push up a new tree, though, as this photo I snapped today shows.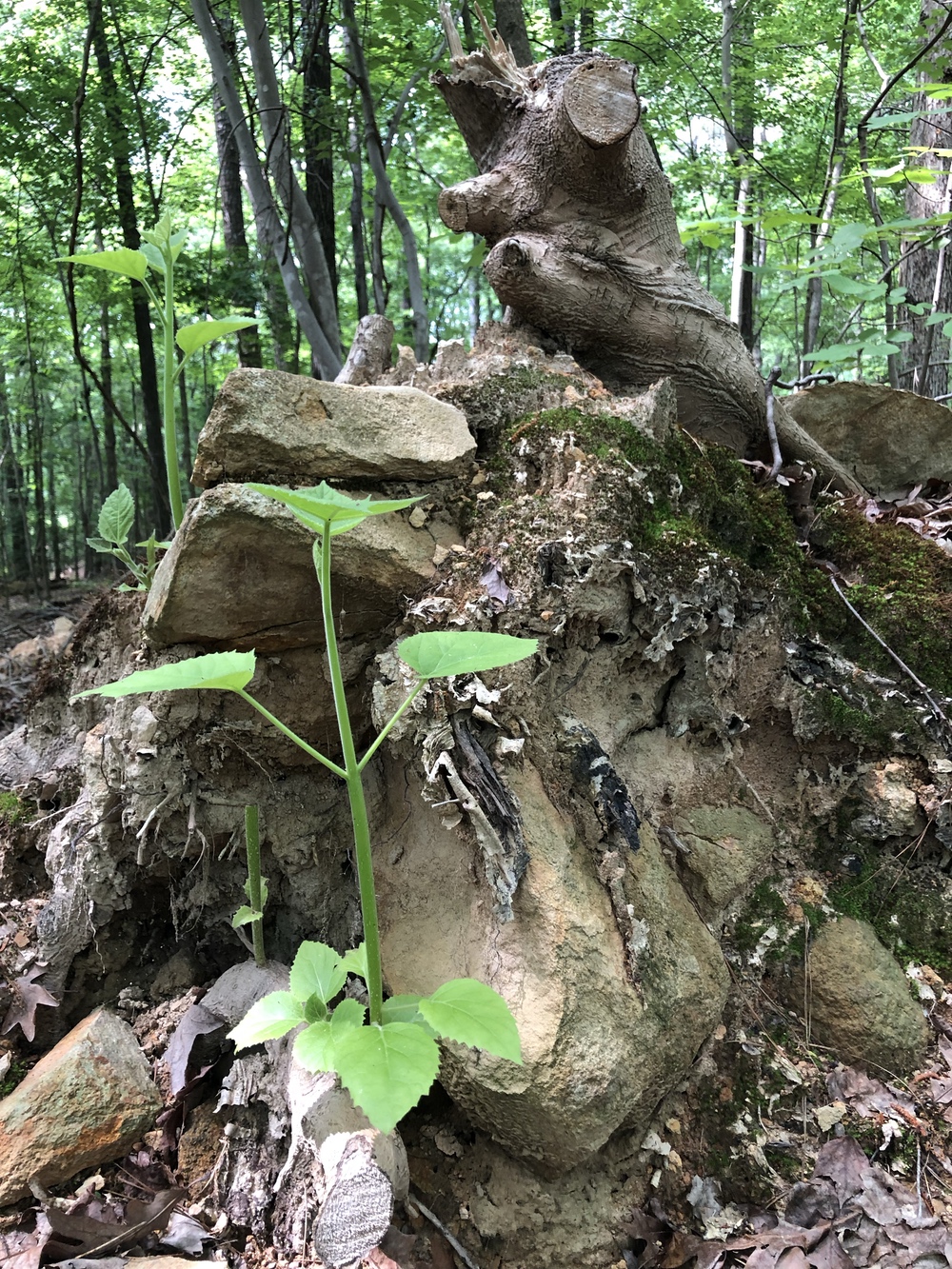 When I finished with work today, the house was empty and quiet—Erin out for a walk with a friend, Anna and Oliver at the UNC FARM swimming pool, Malia exercising at the gym—so I donned my sail-canvas apron and stepped over to the stove to prepare a batch of strawberry mango jam, listening to U2 and sipping a mango wheat beer.
An hour later, that activity done, I decided to walk down the gravel driveway to get the mail. The air was still warm from the heat of the day, I was wearing flip flops, the rays of the sun were horizontal through the green leaves and tall tree trunks. I smiled, thinking about my days as a Peace Corps Volunteer in the South Pacific, my evening walks up the dirt road to the Lironessa Co-op to buy rice or eggs or a can of chili tuna.
In the mailbox was an envelope from my friend Beck Tench. It was a typewritten letter, a response to a typed note I'd sent to Beck a few years ago. I read this letter as I walked up the path to the house. I stopped when I read this line: "I know these paths are made by walking, and I know there is hope and harm ahead in every direction."
I looked around, marveled at the shape of the leaves of the young tulip tree to the right of me, and I smiled in gratitude for Beck and all the other friends who have written and typed to me through the years.
Erin and Oliver and I just took a quick trip to New York City to celebrate Oliver's birthday. He had been in his school's performance of Lion King in March, so Erin arranged for us to go to the show on Broadway last night. It was quite the spectacle. And that was after a full day: breakfast at Andrews NYC Diner, an elevator up to the observation deck of the Empire State Building, a walk through Times Square and the up to the Apple store at the corner of Central Park — Oliver is deciding how to spend his birthday cash and wanted to check out the watches — and pre-show dinner at Mama Mia 44SW.
Today we went to see the Statue of Liberty and Ellis Island. I've seen photos of immigrants queued in the Registry Room but this was my first visit to see the place traversed by my maternal great-grandfather Pietro Sisco in 1901 and great-grandmother Raffaela Brutto eight years later, and my paternal great-grandfather Cornelius Zuiker (recorded as Suiker) in 1891. I'll be adding these details to the family tree.
We're arrived at our home in North Carolina early this evening. Tired from all the walking and travel, we gathered as a family to watch a movie. Erin chose Come From Away, on Apple TV+, because last night we walked past the Broadway theatre where that musical, about true story of 38 airplanes grounded in Newfoundland on 9/11, is running and she'd heard it was good. It was really good. I loved it, cried throughout, and am already thinking about another quick trip to NYCity to see that.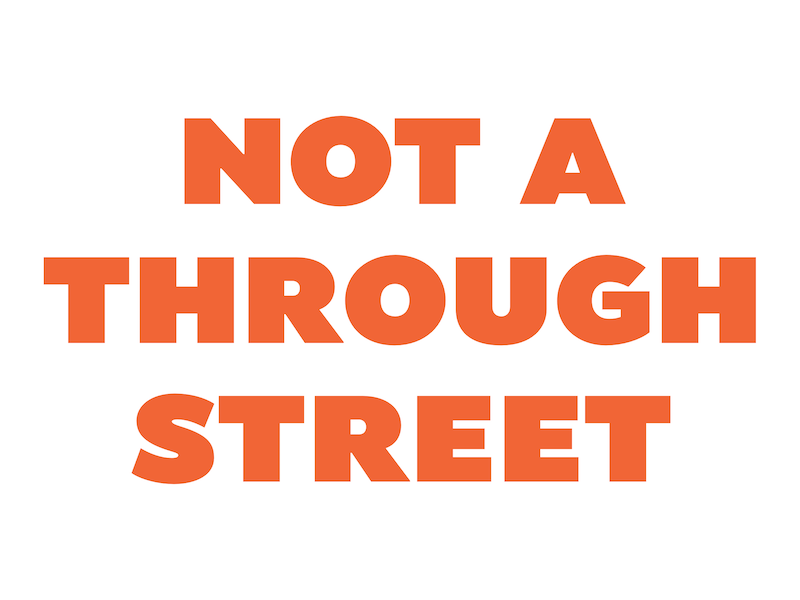 What should have a been a two-week project to build a new paved, private driveway to our house, starting in September, turned into a drawn-out, many-months effort complete with complaints from neighbors, delays for snowstorms and high-wind advisories, a steep incline and tight space for where we could connect to the stub-out road adjacent to our property, and a pause so that the crew could make a bio-retention pond down the lane for my sister-in-law's new house (they used many loads of dirt from our driveway dig, which thankfully resulted in a less-steep path for us and a more-level yard for Mary and Michael). Now the project is done and we're driving it, glad for the safe, smooth way to get out of our wooded corner of Chapel Hill.
Except that this house is no longer ours, because last month we sold it to a cousin of Erin's. We'll be here for a bit longer while we build a new house on our other lot up here. The tree protection fence is up and as soon as the town inspects the lot and gives us the go ahead, we'll start clearing a spot for the house. It's going to be stunning and you'll see it from a long curving driveway through the tall oak trees.
If you visit us in the next few months and you come up from Bixley Drive, you'll see yard signs to explain the paved driveway is private, not a through street, and that construction vehicles are prohibited. I used the great Concourse a font by Matthew Butterick in my favorite color. I use Concourse for titles on this blog, too.
It's been a few weeks since we returned from a thoroughly enjoyable (if you ignore the constant worry of COVID-19) family vacation on O'ahu. I started to write this blog post as soon as we were back home in Chapel Hill, but I just never got around to finishing it amid the return to work, the tasks and details related to a driveway project, selling this house, and building a new house.
Here's a recap of the vacation:
My father's apartment was empty while he and Dot are on St. Croix for the winter, so Erin and I used our United Airlines miles for tickets to Honolulu. With Makiki as home base, we used dad's car to travel the island and enjoy activities on every side of the island: surf lessons for the kids at Waikiki, açaí bowls at Sunset Beach and souvenir shopping in Haleiwa, whale watching off the stunning Waianae coast, Christmas Day on Kailua Beach and then climbing down to Halona Cove (the setting for that famous beach scene in From Here to Eternity).
I lived on O'ahu nearly 30 years ago, and I was able to explore much of the Hawaiian islands with dad and my brothers, as part of a hiking club, and when friends visited — Erin and I went to Hana, Maui, and my work took me to the top of Mauna Kea. On this trip I got to see parts of O'ahu I hadn't seen before, including Makaha and Mokuleia beaches, and a hike to Allen Davis Beach. Our friends Blaine Rogers and Becky Delafield live in Kaimuki, and they took us on that hike, which started with a resting Hawaiian monk seal on Sandy Beach.
Blaine and Becky were good friends when we first moved to North Carolina. On 9/11, we huddled together in front of our small television, and after that traumatic day we gathered with other grad-school friends on Wednesday evenings to watch The West Wing. Blaine and I went hiking and biking, listened to music, and took little Anna driving for her nap time. I met Blaine and Becky for dinner when I was back in Honolulu for the marathon in 2014, but we hadn't kept up since. I regret that, because our time with them last month reminded me how fun, generous, smart, and likable they are.
"I don't want to leave," said each of the kids as we packed up and prepared for our flight home. I felt the same way. What a gift it had been to spend the holidays on Oahu, outside together and with friends. What a special place.
For the last few months, I've been a tester for Drummer, the new outliner for scripting and blogging that Dave Winer has developed. I enjoy blogging with Drummer. I've called my blog Tamtam Nius, and here's my recent ode to the tool and another post about what it's like to write with Drummer.
I'll be blogging there, and here, and Micro.blog, and eventually will figure out how to coordinate all this.
At work, a promotion: I've been moved up a level and am now a research communications project manager.
Which means I have to update my resume.
I'm grateful to my managers for advocating for me, and giving me engaging and rewarding work.
Nine months into my job at the Duke Clinical Research Institute, I'm happy and enjoying the work. I hope to be at DCRI for years to come. Still, I've always believed it's important to keep an up-to-date résumé handy so I can show my career path and respond quickly to new opportunities.
Here's where I currently list my professional details: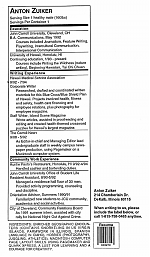 And for fun, here's a version of my résumé from 1994. I was returning to the Mainland after two enjoyable years in Hawaii, where I had a great first job as a writer for Hawaii Medical Service Association (Lisa Baxa was my first manager, and Bill Harby was an important writing mentor who edited my Mauna Kea feature and Keck Observatory essay). I was feeling creative, and fashioned my résumé in the form of a nutritional label. I don't remember actually sending it as part of a job application, but I had fun making it.
When I was ready to ask Erin to marry me, soon after I returned to Cleveland from my time in Hawaii and she had graduated from John Carroll University, I went in search of a ring. Problem was, I had hardly any money and there was no way I could give her a flashy diamond-and-gold ring. But mine wasn't the big-rock style anyway, so I went to a craft fair at one of the private schools on Cleveland's east side, and I stopped at the table of a jewelry artisan who'd made a delicate ring with a speck of a diamond. I paid a few hundred dollars and was ready to propose: on a drive south to Hilton Head to meet up with her family, Erin and I pitched a tent for a few hours of sleep in a campground in Virginia. In the morning, I asked Erin to spread a white sheet over the picnic table so we could eat our bagels and yogurt. On the sheet, in my crude handwriting: "Erin, will you marry me?"—the ring tied with a ribbon in place of the dot in the question mark.
She said yes, and every day since then (actually, since the very first day I met her in 1991), my existence has been better because of Erin. Because of her, our life together has been rich and rewarding and full of love and adventure. Even the table coverings are better.
Erin and I celebrated 25 years of marriage this past week, with dinner at Hawthorne and Wood and an overnight in the Siena Hotel in Chapel Hill (a momentary illusion of Tuscany, but some day we'll go for real). In a way, we've been celebrating for months; earlier this year, she suggested we needed to update our wedding rings. She found a stunning yellow diamond set in a white gold band and a matching band with a row of smaller diamonds. At the same shop, I picked out a thicker white-gold band to replace my thin yellow-gold band. We love our rings. We love each other.
I do miss my old ring. I often slipped it off my finger and looked to the inside of the band, where this was inscribed: 'As you wish. 8-10-96.' But now I twirl the new ring around my finger and I think, twenty-five and counting.
Erin, I love you. Thank you for wearing that simple ring, and holding my hand, and making a life with me for a quarter century.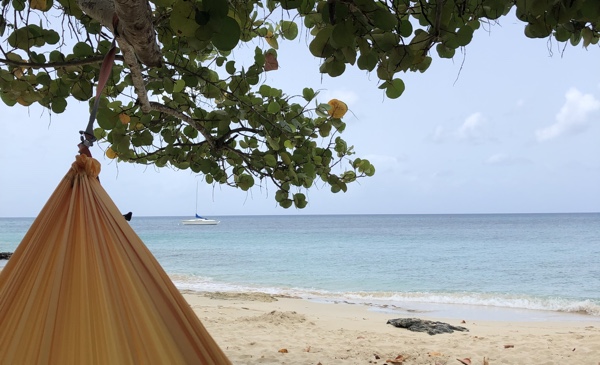 The family vacation on St. Croix came to a close yesterday, the afternoon flight giving time in the morning for me drive into Frederiksted to conduct an interview at Polly's at the Pier (I'm working on an alumni profile for Duke Magazine). Then I returned for a last 30 minutes to string up my hammock under the sea grape trees at Sprat Hall Beach. It is my favorite place, and I savored the moment.
We packed up the car, shuttled the family and my father to Rainbow Beach, ate lunch (mahi tacos with the spicy aioli), shuttled dad back to the house, and then headed to the airport.
We were early and quick through TSA, so sat in the steamy STX concourse-under-construction calmly reading our books even when the flight was delayed so technicians could apply supertape to a running light damaged by a bird strike on the incoming flight, but eventually we were away from an amazing week on island. We landed in Charlotte late at night, and still had a two-hour drive home to Chapel Hill.
I was driving and couldn't find any music I could enjoy and that would keep me awake and let the others sleep. Then I remembered that Dave Winer had posted a link to Guy Kawasaki's Remarkable People podcast and the episode featuring his conversation with Dave. I drove on, wide awake as I listened to Dave and Guy. Even though I've been following him for 20 years, I learned yet more detail about Dave's development of outlining, blogging, RSS, and podcasting.
When the episode was finished, Erin — who I thought had been sleeping — spoke up: "That was interesting." We talked softly about Facebook and my American Tobacco Trail and NYC biking adventures with Dave for the last 10 miles until we were home. Quickly everyone fell into their beds. I closed my eyes, observed how the dead silence inside our solid brick house was so different than the last week's sleeping with the constant sounds of St. Croix — chirping tree frogs and barking dogs through the night and doves and roosters at dawn — coming through the louvered windows, and I fell asleep, the motion memory of that hammock near the Caribbean Sea gently putting me to sleep.
***
See my Wan Smol Blog for photos and short posts from the vacation. A longer post to come here in Zuiker Chronicles in the next day or two.
---