One of the benefits of working at Duke University is an amazing library with great online resources. Earlier this year, I went searching for my family in the archives of the Chicago Tribune, and found a number of articles that mentioned my grandfather and father, but also two about relatives I wasn't expecting to see.
Judy Sisco
My grandparents, Louis and Virginia Sisco, had a daughter named Judy, and I've known all my life about her tragic story: she was killed as a young girl as she darted into the street, and that my grandparents missed her painfully every day thereafter.
The July 24, 1939 edition of the Chicago Tribune included an entry — part of a series titled The Massacre: Chicago's 1939 Traffic Toll that was recording traffic deaths across the city — with the headline "GIRL, 2 ½, KILLED BY CAR AS SHE DARTS IN STREET":
Judith Sisco, 2 ½ years old, was fatally injured by an automobile yesterday before the eyes of her mother, Mrs. Louis Sisco, 3132 South Highland avenue, Berwyn. The girl was struck when she darted into the street from her mother's side. She died in the Berwyn hospital. The accident occurred in the 6500 block of Roosevelt road. The car was driven by Albert Ivanjack, 1707 Morgan street.
I sent a PDF of that article to my mother, and she texted me this:
The lady across the street saw it happen and tried to yell but it all happened too fast. Mom refused to charge the young man who was 18 years old, I think. He felt so bad. He came to the funeral. Judy darted between two cars that were parked. She ran after a gum wrapper or something like that. After that my mom used the halter and leash that somebody had started selling. People used to say terrible things to mom but she didn't care because she didn't want another child killed.
That's why, anytime we were near a street or in a parking lot, I had a firm grip on the hands of my children.
Frances Zuiker
The December 4, 1936 edition of the Chicago Tribune reported that a "girl and father" (21-year-old Miss Mary Schmidt and John, 60 years old) were fatally injured when their automobile skidded in slippery car tracks and crashed head on into a street car.
Further down, there is a report of another street car accident:
Nine persons, seven of them street car passengers, were injured last night in a spectacular crash between a street car and a truck and trailer at 48th and State streets. The tank of the truck exploded, setting fire to the truck and the car. No was was seriously hurt.
A list of the nine individuals and their home addresses follows, and includes "Mrs. Francis Zuiker, 51 years old, 137 East 115th street."
I was confused. Francis Zuiker is my grandfather, he was 26 in 1936, and he didn't get married to Clarice until the next year. I also had never heard of one of my relatives being involved in a street car crash. I asked my father, and then the family mailing list, and no one else remembered such an incident. But then one of the uncles confirmed that my great-grandparents had lived on East 115th Street, and another uncle reminded me that my great-grandmother was named Frances (Link) Zuiker.
So, my great-grandmother Frances was on a street car that crashed into a truck. That's interesting.
At the end of the list of names, though, is this added line: "All the passengers but Mrs. Zuiker are colored." My grandmother was white. I never met my great-grandmother, and I don't know how she reacted if and when she read that line in that 1936 report. If she were alive today, how would she feel about the racism and inequality that is still so ingrained in American society? Would she, like me, want desperately to find some way to help make our nation more just? I don't know why Frances was on that street car, where she was coming from or going to. One of my uncles told me that my grandfather, Francis, "had no trouble relating to and being friends with anyone and everyone." Did he learn that from his mother, Frances?
Frances's husband, my great-grandfather, was named Cornelius Zuiker. I've been looking through the Census records and learned that he immigrated to the United States of America from Holland in 1892. Peter Sisco, another great-grandfather, came to the U.S. from Italy in 1899. I'll continue to search for my other ancestors, and update my online genealogy.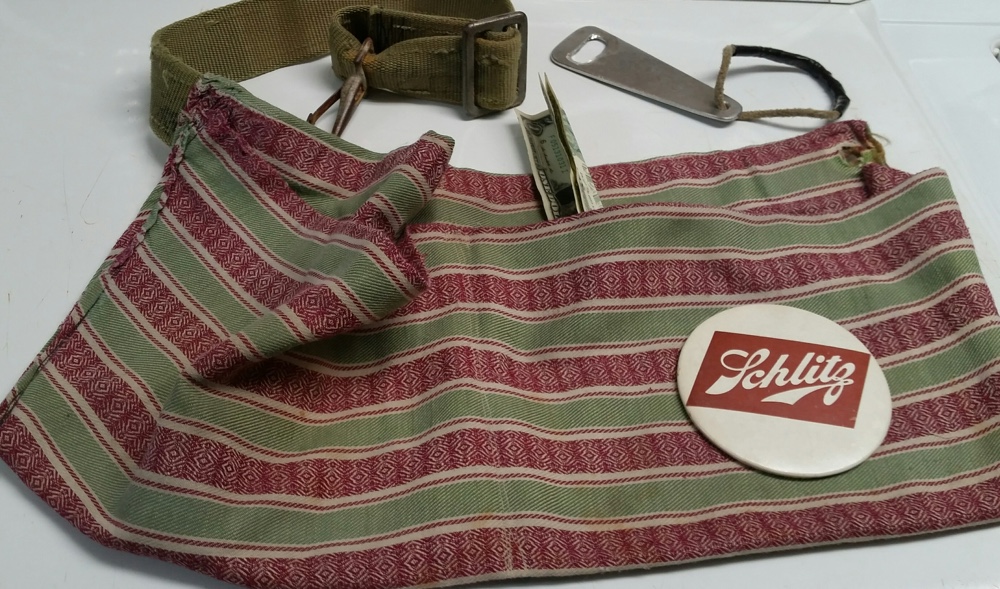 When the Zuiker aunts and uncles gathered earlier this month in Florida to surprise Aunt Judy on her 80th birthday, my father sent me a message to report that Uncle Larry was passing around a new book I might be interested in getting.
He was right, and so I ordered a copy of Wrigley Field's Amazing Vendors, by Lloyd Rutzky and Joel Levin. The book is a collection of photos from the 1970s showing the men (and a few women) who worked at Wrigley Field selling hot dogs, popcorn, beer, and soda.
My father, Uncle Larry, Grandpa Zuiker, and most of the other aunts and uncles worked at Wrigley, Comiskey Park, Soldier Field, and Chicago Stadium. And page 40 of the book features a photo of my father, with this caption extolling my grandfather:
"One of the most famous and cherished tools of Chicago's beermen in the 1970s was the Zuiker opener, which fellow employe Francis Zuiker made as a sheet metal worker [at the Pullman Car Company]. They were completely unbreakable and opened bottles with precision. Zuiker sold them for only $1 each. … Above is Zuiker's oldest son, Joe. Joe was one of several Zuikers who toiled at the ballpark."
One of my earliest memories is of seeing my father on television as I watched, with my mother, an evening White Sox game. My dad was in law school at the time, selling beer at the ball games to pay for the degree. Later, when I was in high school, dad would take me to Cubs and Sox games, and I used to love walking with him through the stadiums as he was greeted by one old-time vendor after another.
The Zuiker bottle opener that grandpa was famous for was also mentioned in the 2000 Chicago Tribune obituary for Francis Zuiker:
Mr. Zuiker always had more than one job, usually as a free-lance writer and photographer, a side occupation that brought in extra money as well as satisfied Mr. Zuiker's creative nature. Another of his secondary professions was hawking popcorn and beer at sporting events in town; his daughter said that while on that job, he made (but never patented) improved can openers and similar devices for fellow vendors.
The Tribune had featured grandpa 27 years earlier in a story about ball-park vendors. ("At the ball park: It may be peanuts but it's their bread & butter!" by Stephanie Fuller; Chicago Tribune, Aug 21, 1973; pg. B2] I found that article this summer when I was searching the Tribune archives for mentions of my family. (One of my next blog posts will be about two surprising finds about my grandmothers.)
I liked this passage at the end that explained grandpa's experience with how "heat combined with beer drinking" could cause trouble:
"Different teams attract different types of crowds," he continued. "With Cincinnati and St. Louis you get the beer drinkers. Other teams bring more family crowds. No two teams draw exactly the same type of crowd.

"You see, most vendors work both the Sox and Cubs baseball games, hockey games and events at Solder Field. We get a lot of exposure. At Sox Park, Texas and California bring in families. By a family crowd, I mean you get a lot of tour groups and people who bring their own lunches and drinks. They're not big spenders."

Zuiker feels the ball park is a bonanza for kids who obtain summer jobs as vendors and can pay for their education. He ought to know as his six sons worked their way thru college hawking items, his wife works in the hot dog room, and one of his daughters is a "weenie wiper," a person who stuffs the hot dogs.
I am in search of a Zuiker opener. [Uncle John sent a photo of an opener and an apron made by Francis Zuiker. See above.] My mother-in-law, meanwhile, reports that she's got a custom-made beer-bottle opener that her father crafted on his farm in Huron, Ohio. I suspect we could put together a book about the self-sufficiency of the greatest generation with just photos and stories of the bottle openers those men and women created for themselves and their comrades.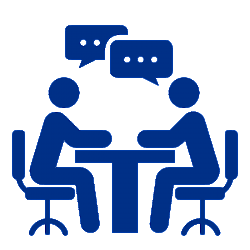 On my 40th birthday, in 2010, I threw a party for my friends. Standing before them, I pledged to make my next decade one of narrative, in which I would learn to be a better storyteller and find ways for others to tell their stories.
(My 30th birthday inaugurated a decade for writing, in which I blogged regularly and edited and published a book by my father and a book by my grandfather. My 20s were for growing up and experiencing the world; I lived in Hawaii, got married, edited a magazine, and served my country as a U.S. Peace Corps Volunteer.)
I started my forties well, telling stories on stage and organizing events; I posted an update in 2012, another in 2013.
Then, five years ago, I had my online wipeout. In the blogging and social media sabbatical that followed, I thought long and hard about the many lessons I had learned in the preceding years, especially the importance of listening, really listening to the people and world around me. Thankfully, in those lessons and through the people I know, I found new energy and meaning.
All along, I was looking for some way to create a "listening booth" at Duke University Hospital (where I work), some way for patients and their families to talk about who they are.
One afternoon, while I was waiting outside the auditorium for a research seminar to finish, I watched silently as a patient, pushing her IV pole beside her, shuffled by in hospital-issued gown and yellow socks. She glanced over her shoulder at me, and said, "This is bored to death."
At the time, I was reading the excellent book by Dr. Danielle Ofri, What Patients Say, What Doctors Hear. But I was also hearing from health system leaders that physician and nurse burnout was an important issue that needed to be addressed in innovative and systematic ways. One colleague challenged me to submit a proposal that might focus the listening booth on the stories of the health care providers and staff across Duke, so that we all might be inspired by their meaningful conversations. (Think StoryCorps for the hospital.)
In 2018, I've given some hints about what came about. Last February, I posted Voices and stories, and in March a short follow-up post, More Voices, then in September came Finally, Voices to report that the Duke Institute for Health Innovation gave me a small grant to pilot the Voices of Duke Health listening booth and podcast. Since then, I've been working with a great team — third-year medical student Karishma Sriram, recent Duke grad Susannah Roberson, and Dr. Jonathan Bae — to facilitate those conversations and share them in a podcast.
Voices of Duke Health lives at listeningbooth.info. I hope you'll subscribe to the podcast, or just take 15 minutes to listen to at least one episode: The Roller Coaster is a good starter, or learn the correct way to use a stress ball.
My decade of narrative is almost over, and I'm taking stock: My storytelling skills haven't improved much, but I have been able to collaborate with others to make something that can inform, educate, entertain, and inspire others. I hope it will help us all to listen more patiently, deeply, lovingly.
There are many more Voices of Duke Health podcast episodes to come; we're already working on possible next phases for the listening booth. I'm hoping this project will continue well beyond the start of my next decade, though I am working on ideas for what focus I might kick off on my 50th birthday.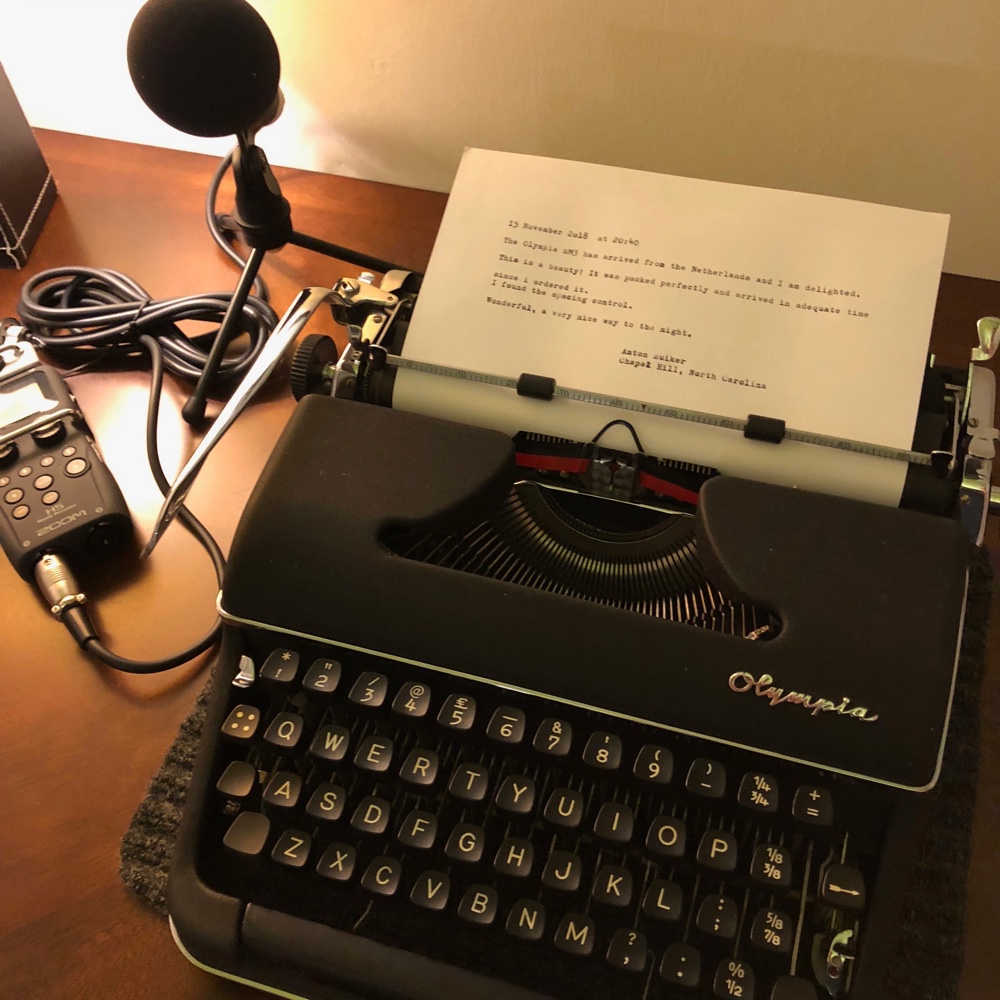 I bought a third typewriter earlier this year. This new one is a gorgeous matte-black Olympia SM-2 from 1952, purchased on Etsy from Christopher Mullen of Acme Type Machines in the Netherlands. (My other typing machines are a Triumph Tippa 1 and a Cole Steel in need of repair.)
The Olympia sits on my desk in the library, and I try to type a few sentences each day. Here's an entry from earlier this week:
Monday, Christmas Eve: I made a fresh gingerbread cake, then showered and shaved, dressed, and went out to Whole Foods for salmon and other ingredients for our meal tomorrow. Store was very busy. Home now. Malia and Oliver are baking chocolate chip cookies for Santa. Erin is out for last gift shopping. It is a sunny day, not too cold. I love our land. I finished reading Clarity Win$, by Steve Woodruff. It is a very clever, focused book about developing a clear set of messages, identifying your bullseye customer, and finding focus. Just what i needed at the end of this year as I contemplate the next year of my career and work at Duke.
The next day, I recorded how I walked out on the land, put up a hammock between two trees, and read a book (There, There, by Tommy Orange, a present from Erin).
Long before I became a blogger, my maternal grandfather, Louis Sisco, was using a typewriter on a rolltop desk to record his and Grandma Virginia's activities in DeKalb, Illinois. My family was living in Idaho in the 1980s, when long-distance phone calls cost, and Grandpa would send the pages to my mother so she could feel at home at every mention of breakfast at Barb City Manor or bingo night at St. Mary Church or visits with Aunt Ginger or one of my cousins.
"One more peek into grandpa's diary" was typed at the top of each week's report. My grandfather was a natural born blogger, as Dave would say.
I have a collection of these typewritten pages, and since the Olympia arrived, I've been reading them for inspiration, and a connection to my beloved, departed grandparents.
Here's an entry from one of the diaries. It's undated, but I believe it is from November 1981.
Friday: It was a steady rain during my walk but I did get home in time to watch the launching of the Columbia. It was such a gloomy day with nothing to do for a change so I started to address a few Christmas cards. We did a little Christmas shopping and then came home to lunch. Judy and Lonnie were here too. This being Thursday means the it is another Bingo night for mother. You guessed it, the report on her return "I almost won".
That's a seemingly mundane report, but it means much to me. Grandpa walked each and every morning, very early. He was generous and timely. He loved his children and grandchildren. Grandma religiously played bingo and enjoyed reporting her near-winnings.
I also have a stack of typewritten chronicles from my other grandfather, Francis Zuiker. His letters are essays and travelogues, retyped by my grandmother Clarice with carbon paper so my father and his eight siblings would each get a copy.
An excerpt from The Zuiker Chronicles #31, April 25, 1977 (Park Forest, Illinois), "THE RENEWAL":
The park around us is a sea of yellow dandelions. The sun is shining, the wind is out of the north and it is cold as well. If that isn't a contradiction, then consider that Captain Steve Donovan just provided us with a Florida fishing report that is filled with exciting news of trout, mackerel, flounder and sheepshead being hauled in by the dozen by Capt. Steve and his cronies …
In the 1970s and 1980s, these small-just, just-ahead reports connected family across physical distance. Today, my grandparents and other relatives are dead, but their letters connect us across a metaphysical void.
My goal in 2019 is to continue to type, write, journal, blog, and jot every day—to leave a record of my activities and losses and joys and interactions, a trace of my existence that will connect me to my loved ones here and now and in the future.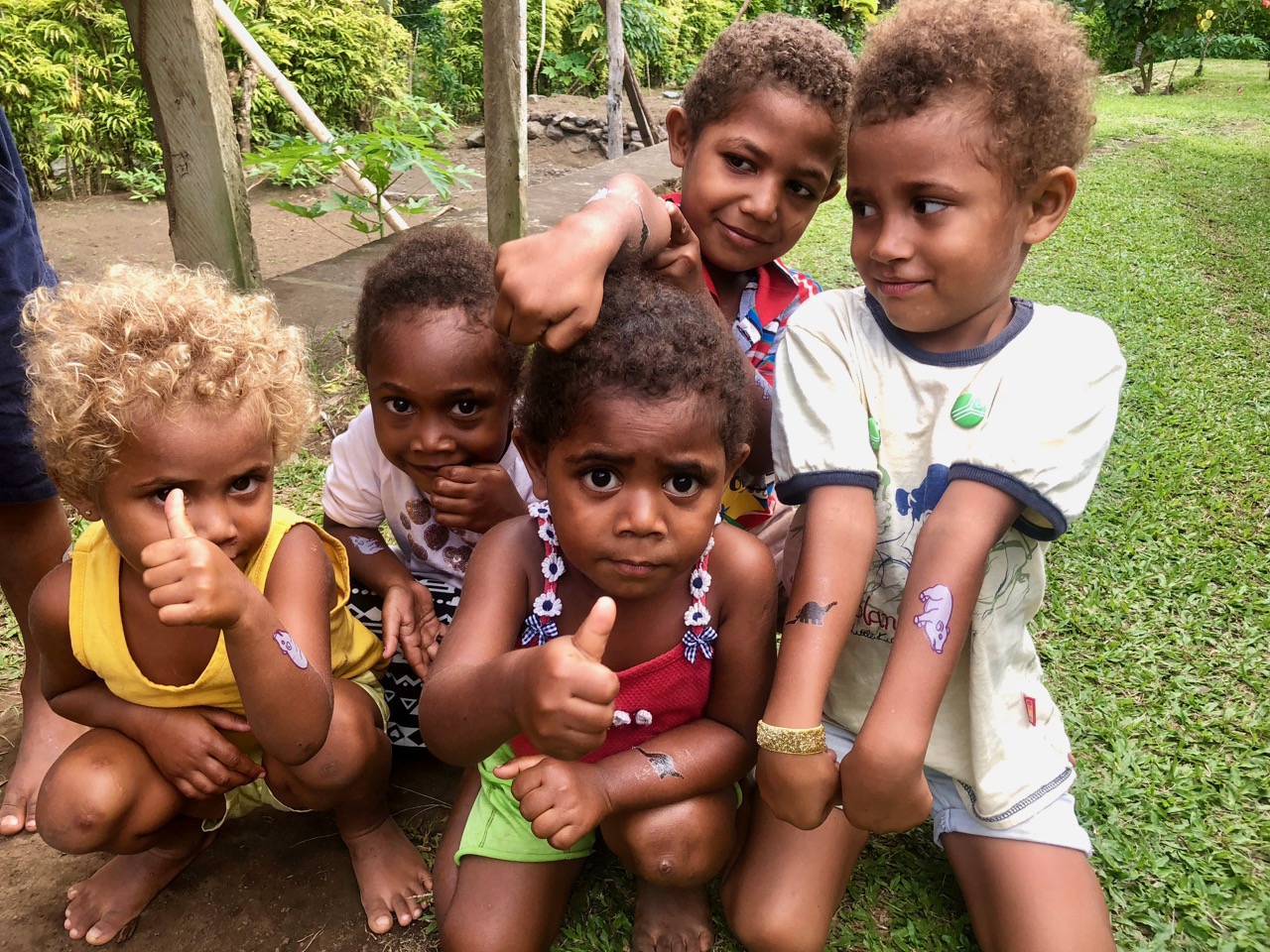 What did I expect? I was on a small island in the South Pacific, far from home, walking behind a Ni-Vanuatu family as they guided us up a steep hillside toward their garden plots, explaining their life in Bislama, the lingua franca of the archipelago.
1997
When I first arrived on Paama island in the Republic of Vanuatu, I expected a lot. Inspired by my father's stories of his service as a U.S. Peace Corps Volunteer in the Dominican Republic in the 1960s, I had applied (three times) and then been selected to serve with with my wife, Erin, in the remote South Pacific. In the two years ahead, I planned to build something—my father helped build a school and water works still in use 40 years later—and to learn a language I could use throughout a career, to pick up skills in martial arts and cooking and music, and to know I had shifted the balance of tranquility and understanding in the world. I was young, idealistic and self-centered at the same time, expecting to fulfill the three goals of Peace Corps in no time at all.
And yet, just a couple of weeks into that experience, sick with giardiasis and disatisfied with the simplicity of Bislama and confused by Melanesian traditions and scared by an oncoming cyclone, I was hit with the realization that I needed to jettison my expectations and take in the Peace Corps experience however it might unfold. That made all the difference, and when we departed Paama nearly two years later, I was glad to have taught my students to play ultimate frisbee and to have learned to appreciate Liro Village and to have been welcomed into a family that promised to always consider us a part of their lives.
I didn't build anything, but Erin left behind a new library in a small shack, filled with books sent from our friends and relatives back in the United States. When I returned to the States, I became an early blogger, and in sharing my memories of Paama, I was able to fulfill the third goal of the Peace Corps.
I expected we would return in a few years, and again and again after that. I expected each visit to Liro would be a homecoming, and that we'd spend weeks in storian (sitting under a mango tree, talking story) and in explorations of the parts of the island we'd not seen. I had high hopes.
2018
We returned to Paama only this summer, for just 48 hours.
It was not what I expected, but all that I had hoped.
In the nearly 20 years that had passed since we departed Paama, life was full of wonderful experiences: three children, three graduate degrees, blogs and books and careers and conferences and houses and homes. (We moved into our newly renovated old-brick house in the woods just three weeks before we flew to the South Pacific.) Along the way, we banked credit-card points and frequent-flyer miles, and finally this year we had enough to book five tickets to Sydney, Australia.
We enjoyed the cool weather in Sydney for four days, then flew to Port Vila, the capital of Vanuatu. Arriving near midnight, we chatted in Bislama with the customs officials, and walked out to see a grown-up Terry Timante, the teenage boy who had spent so many days with us on Paama, calling me dadi Anton. For the next few days, we relaxed at Erakor Island Resort, and made forays into town to visit the fruit market, introduce ourselves to the Peace Corps Vanuatu director and a handful of current volunteers, and enjoy a few meals with Jane and Jacko Laycock and their family (Jane had been the medical officer for Peace Corps during our service, and had nursed us through giardiasis, dengue, malaria, and homesickness).
Vila was crowded with people and taxi-vans. Many of the vans were bearing the national flag of a team competing in the World Cup, and as we rode through town, we saw more flags, attached to the tips of bamboo, flapping in the breezes high above houses and shanties.
Day by day, though, it got windier and windier. When we arrived back at the airport early one morning for our flight to Paama, there were warnings that the northern islands may be inaccessible. Still, Air Vanuatu boarded us (and a couple of new PCVs, headed to their posts on Ambrym), and the Twin Otter began to taxi onto the runway. But then the plane stopped, the pilot looking back and announcing, "Ol man we i stop go long Paama, yufala mas aot long plan nao. Win i strong tumas." So, it was too windy to land on the inclined grass airstrip on Paama, and we had to deplane.
Back in the airport, with no clarity from Air Vanuatu on if and when we might get to Paama, we went to the Air Taxi Vanuatu desk and chartered a flight on a small Cessna to Tanna Island in the South. Tanna has an active volcano, Yasur, and an ecotourism operation to drive people across the ash plain and walk them up to the rim of the crater. We made it to the top, and as dusk turned to dark, the rhythmic puffs of ash coming up from the two vents down below were revealed to be red-hot lava bombs. Occasionally, the volcano would shudder and my heart would flutter and I would grab Oliver's arm. What an exhilarating, dangerous experience, one we were still feeling as we settled into our spacious, safe, seaside bungalow at the White Sands Resort.
The next morning, we flew back to Port Vila in the Cessna, so different than the luxurious Boeing 787 Dreamliner that had delivered us to Sydney. The winds up north were still blowing steadily, and Air Vanuatu was still stalling, but the Aussie lead pilot for Air Taxi Vanuatu said he could get us there; landing wasn't the problem, he said, but taking off on the decline while fighting downdrafts as the runway ended at the rocky coast.
The pilot brought us in over the coast we knew so well, and he landed smoothly on that airstrip, taxied to a stop and killed the engines, and once again I was standing on Paama. Nearby Tavie village was celebrating the opening of a new church building, so we joined them while someone sent word for Paama's one truck to come up from Liro to retrieve us. After plates of food were put into our hands, and copies of the Bislama-language Bible were passed out, the truck eventually pulled up, and we piled into the back alongside Leah and her daughter, Mereva, and a bunch of children that showed Oliver how to stand and hold the roll bar as we bumped up the rutted road toward Liro.
Forty-eight hours later, we'd be headed back to the airstrip in a motorboat chugging along the coast, our trip cut short because of the winds; Air Taxi Vanuatu could get back, but if we delayed, we'd risk missing our flight out of Vanuatu.
For those two days, though, we were home. We slept in Kenneth's guest house near our previous house (since demolished by a landslide and rebuilt into a kindergarten), but spent nearly every waking moment with Leah or some combination of her children and grandchildren. Her son, Redy, who looked and sounded so much like his late father, Noel, treated me like family, taking me to the kava bar and leading us all on a fun and educational hike up to the hillside gardens — coconuts, spiders, yams, pigs, and more. Priscilla, who had been a teenager during our service, now was a beaming mother of three darling children who treated Oliver like a brother; Priscilla's tattooed partner, Yannick, turned out to be the gentlest of men, and he delighted in demonstrating to Malia how to harvest manioc on that hike to the gardens. Redy Henry, now an oldfella with gray hair but still a respected elder curious about the world, asked us what kind of man the current U.S. president was (in the 1990s he'd asked a similar question, and wondered about America's stance against Iraq) and what we thought about China's aggressive activity in the Pacific (a major issue in the Australian media, I'd seen). And Mereva, the spindly little girl who had come to our house every day to be doted on by Mami Erin, was now a healthy young adult, constantly posting photos to Facebook when she wasn't overseeing the expanded school library that Erin once had started with the donation of books from family and friends back in Ohio. Molly, the school principal 20 years ago, was principal again, and led a short ceremony under the mango tree to accept the school supplies Malia had gathered from her classmates.
I had neglected to bring any coffee, and I didn't drink much water, and that second night, while Erin and the kids joined the village in the nakamal for a special kakai, I was back in the guesthouse writhing with a dehydration-and-caffeine-withdrawal migraine. In between my violent fits of vomiting into the dark, I recalled how I'd gotten similarly sick within days of first stepping foot on Paama. This night I also would miss the England vs. Columbia round-of-16 game, shown at 3 a.m. in the same nakamal. Most of the men in Liro were pulling for France or Brazil to win the World Cup. In my first stay on Paama, I had a memorable night watching a replay of the final game of the 1998 World Cup, won by France. Every four years, I expect to watch every minute of the World Cup, but this year our trip coincided with the tournament, and I missed all but one of the games between June 22 and July 7 (I watched our final night in Sydney). Recognizing this gap helped me understand how my focus on the logistics of family travel and lodging and meals and safety changed the experience of the return to Vanuatu.
Back in Port Vila, on Efate island, our final two days: another dinner at the Laycock home, another lunch at Nambawan Cafe, more souvenir shopping in town. Walking amidst the stalls of the "mama's market," Anna and Malia and Oliver spent their final vatu on various handicrafts — pandanus handbags and carved tamtams and seed necklaces. I was walking past the Tanna Coffee table when I heard someone ask, "Nem blong you Anton Zuiker?" My head snapped around to look at the woman behind the bags of coffee beans grown on the slopes of Yasur volcano. "Ci, nem blong mi Anton Zuiker. From wanem yu save nem blong mi?" It was Juliette, my student from 20 years ago, recognizing me on sight, hapi tumas to see me and glad to give me an extra bag of beans to take home to the U.S.
That final night in Vanuatu, we gathered with 50 Paamese relatives at a family compound in the Nambatu neighborhood for a final kakai, another shell of kava, speeches about what these people meant to us and how they had given us an experience then and again that filled our lives with joy.
Ahead
I expect to return to Vanautu: Oliver and I are talking about going back to Paama in a few years, so he can spend a week or two running through the bush and swinging from the banyan vines with his pal, Lukas.
Anna, meanwhile, has written a college-admissions essay about international travel and how she hopes to be a third-generation Peace Corps Volunteer. Just what I hoped.