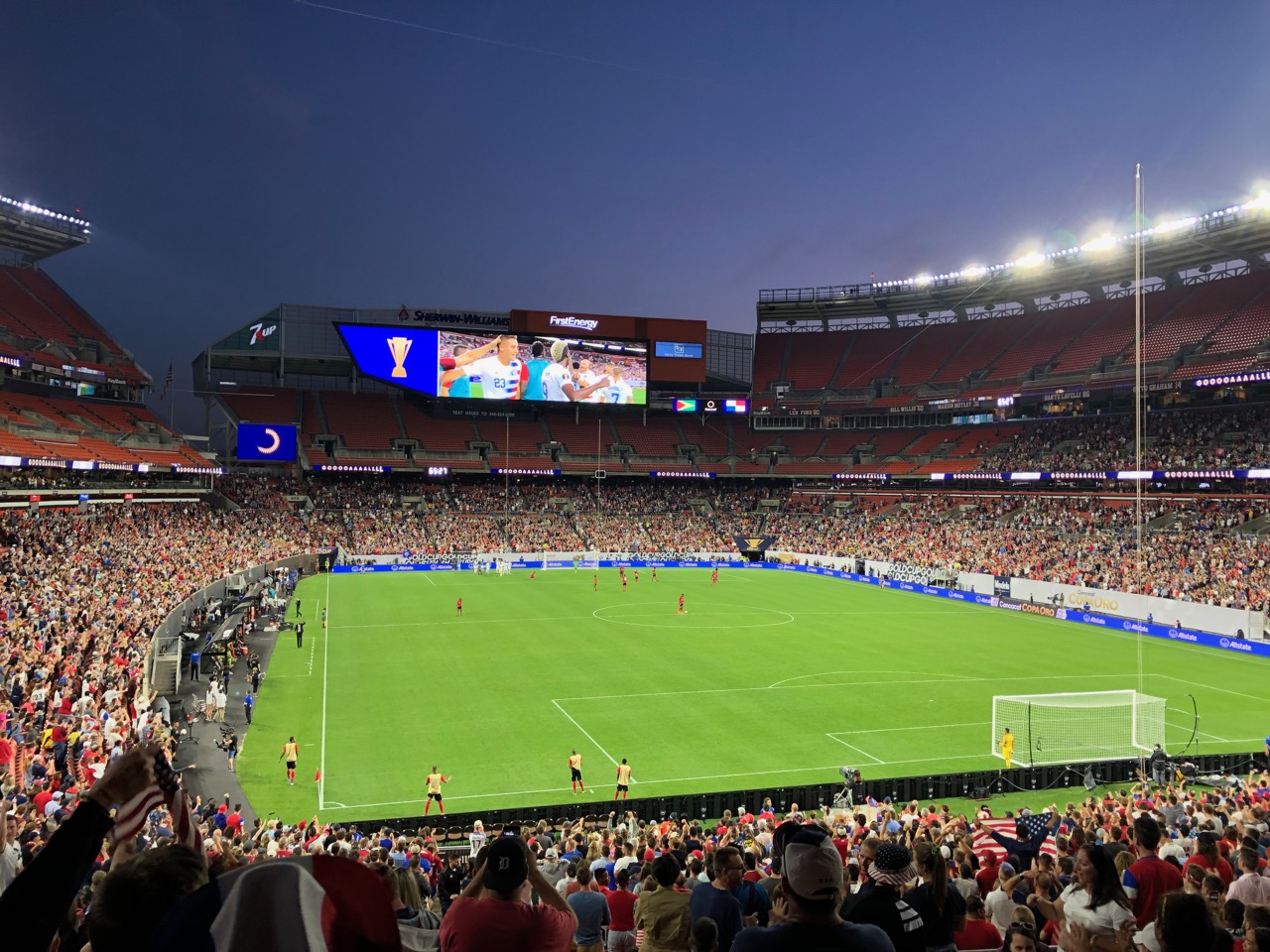 June was a whirl, as it is every year at work as the fiscal year comes to a close and we scramble to compile a year-in-review presentation about our massive and complex department. We also completed a research strategic plan. At home, we threw a graduation party for Anna, then took a road trip to Cleveland to celebrate Dan's 80th birthday. It was a gorgeous weekend in Cleveland, perfect for a lunch cruise on the lake, then drinks along the Cuyahoga and a walk on the underside of the Veterans Memorial Bridge, an Indians baseball game, and (for me, Tom, and Michael) the UNMNT win over Trinidad and Tobago.
Somewhere along in the month, the ABIM Foundation announced the winners of its inaugural Trust Practice Challenge, and Voices of Duke Health was on the list. The foundation's leader wrote about our project earlier this week, and invited me and the other winners to fly west next month to participate in the foundation's forum at a mountain resort. I'm looking forward to demonstrating our podcast and discussing the joys of listening.
Yesterday, my friend Dave Winer called, finding me at my desk with time on my hands. We had a long, enjoyable conversation—the kind that ambles along and feels relaxed and deep at the same time—and afterward Dave posted this nice note and mention of Voices of Duke Health.
I have much more to report, and now that I've moved the Zuiker Chronicles to yet another host (Opalstack, this time), I'm ready to write and write and write.
BTW, yay U.S. Women's National Team for your World Cup championship! We watched and cheered and celebrated your victory.
A hummingbird visited the flower bed in the front of the house. On the back deck, sitting with a friend for breakfast and a leisurely chat, I watched a variety of wasps and flies buzz through, interested in the underside of the big umbrella. The other day, as I walked in the woods, a pileated woodpecker flew up from a fallen tree trunk, the bird's size astonishing me. The cats chase fireflies in the evening.
The chicks, meanwhile, have been moved from the laundry room to the deluxe chicken coop out next to the garden. Their feathers are coming in, and they race across their yard flapping their wings.
We've worked hard on this house and land, and only in the last few days have I been able to pause to look and listen and notice. I delight in the morning bird chorus, and am mesmerized by the late-day sunlight angling through the tree trunks. There's a peacefulness all around, even as life is busy in its many ways.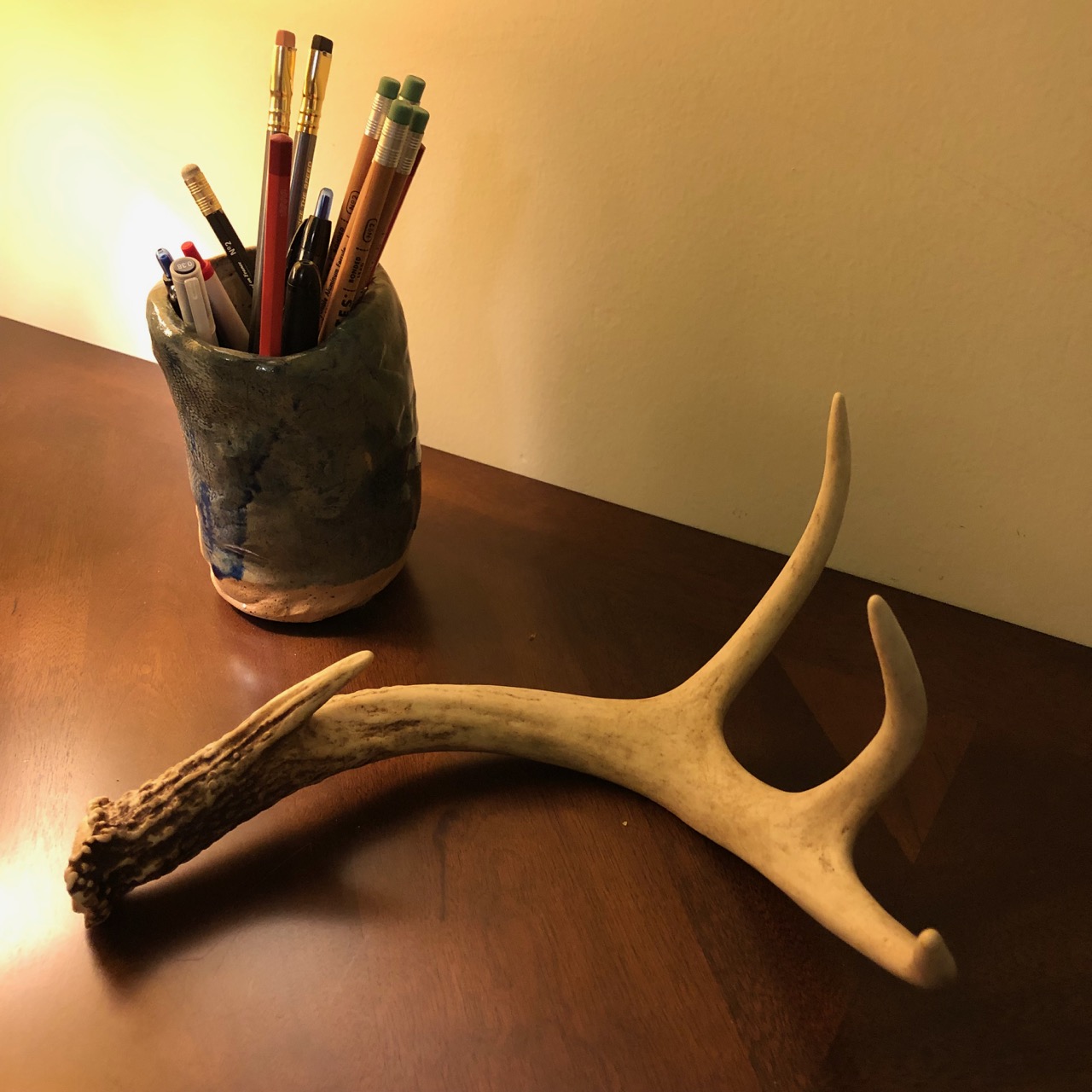 Home after a full day of work, already dusk, but some unexpected sod to lay down and a garden box to get leveled and filled with new soil. I finished in the dark, feeling with my hands in the fragrant dirt to place four young tomatillo plants. A smell of the farm, the blanket of night, and a satisfied calm within.
Yesterday, Sunday with afternoon rain showers forced me to rest. I sat with the paper on the front porch. Erin and the girls went out to shop and sighted the first box turtle of the year crossing the gravel road. I'm still delighted in my find from a couple of weeks ago, a deer antler that was in the back woods. Another deer ate the leaves off the apricot tree I'd just planted. The squirrels have visited the cherry tree, and the pileated woodpeckers continue to pound at the downed yellow poplar tree behind the abandoned shed.
Last month, Randall the sawyer brought his mobile mill up to the house to slice the blackjack oak, red oak, and white oak stacked on the edge of the road since the tree trimming in March. We finished stacking the boards only yesterday, a big pile out in the shade of the woods. "Stack them, cover, and let benign neglect take over," said Randall. In a year or two, we'll take some of the slabs to his Fireside Farm workshop so he can make tables, including a long table for backyard dinners with friends. For sure there will be tomatillo salsa and maybe fireflies as dusk settles over us.
April is over, which means all our birthdays are past for another year. We ate a lot of cake, and now we're working off the calories with a lot of work in the yard. Oliver helped me build another cedar garden box to go in the large enclosure that's been erected out back. Anna, who turned 18 and selected a college—UNC Greensboro been mowing the green grass in the reseeded yards. (She just walked in from a track meet, where she competed in the shot put and 200-yard race, and reported her best throw and run yet.) Malia's been busy every night for a few weeks preparing for her part in the high school play.
Erin, of course, has been behind all of the progress at the house, and helping each of us in our activities. We wanted to to show her how much we appreciate all she does for her family, friends, and community, so we planned a surprise birthday party for her, and asked friends and family to show their appreciation by sending a letter of love or other creation. The surprise worked, and Erin enjoyed the shower of love (cards are still coming in). She deserved it. She's amazing.
For Erin's party, I bought cupcakes. She expected a birthday cake, but understood the change. For years, we've gotten cakes at Whole Foods Market in Chapel Hill the day of each birthday. We craved the buttercream frosting, put the uneaten half under the glass dome of the cake stand, and finished it the next day. But now that Amazon owns Whole Foods, the cakes are almost always frozen when we buy them, and there's less of the yellow cake inside, and the service at the counter is poor.
"We'll just have to bake our own cakes from now on," said Erin.
I do want to spend more time in our kitchen. Oliver requested his favorite chicken with Asian-style sweet-and-sour sauce (we call it Burn Your Lips Chicken), so I cooked that for him this week. This summer, there will be garden vegetables to cook for dinner, and cherries and plums and pears (the deer got to the apricot tree I'd planted before I could get a protective fence around it), and other occasions to celebrate with a cake or pie. We'll sit on the back deck and appreciate it all, and each other's presence, and life all around.
Evening yesterday was warm and calm, everything coated by the yellow pine pollen that has covered North Carolina the last week. I stepped out onto the back deck to survey the grass that's coming up around the house. Carpenter bees were buzzing about, bumping into the flashing above the screen porch and crawling up into their holes.
Today, rain. I got home from work as a deluge was flooding the road and yard, overwhelming the new French drain and rock path along the house.
We settled in for family movie night. Erin selected Akeelah and the Bee, which we've watched time and again though this was Oliver's first. When Akeelah was at the state bee, I went out with the flashlight to meet Malia down at the park to walk her home. I tiptoed slowly down the path through the woods, expecting to meet a copperhead at any step. Thankfully, no serpents were in the shadows.
Back the bee, as usual, I cried. Such a sweet movie. But I was also crying from sadness, having read the short poem Sea Prayer by Khaled Hosseini, calling humanity to witness the flight of refugees trying to get across the water to some place, any place, of safety and hope.
And this on a day when news from the southern border of the United States is more and more dire, and our country continues its refusal to be humane, and the hopeless man who is president plays with fire.
A band of thunderstorms came across North Carolina this evening, and our home is drenched. This made it a good night to check the new French drain and gravel path that runs the side of the house. It seems to be working, though a lot of water that runs off the driveway and there's some puddling still under the big white oak. The shed is leaking, too, even though we paid a guy to patch the roof last summer.
When it rains, I have this urge to go outside and evaluate the gutters, the gullies, the puddles, and the pools. As a boy, I would make dams in the mud, and redirect streams into small ponds of my making. As a Peace Corps Volunteer in the Vanuatu, stuck in our house for a week at a time while cyclone rains pounded the tin roof, I moved jars around the floor to catch water dripping through the nail holes in the tin, and I watched nervously from the door as rivers of water and mud formed outside.
The rain tonight was welcome, watering the newly seeded lawn all around this solid, dry, silent house.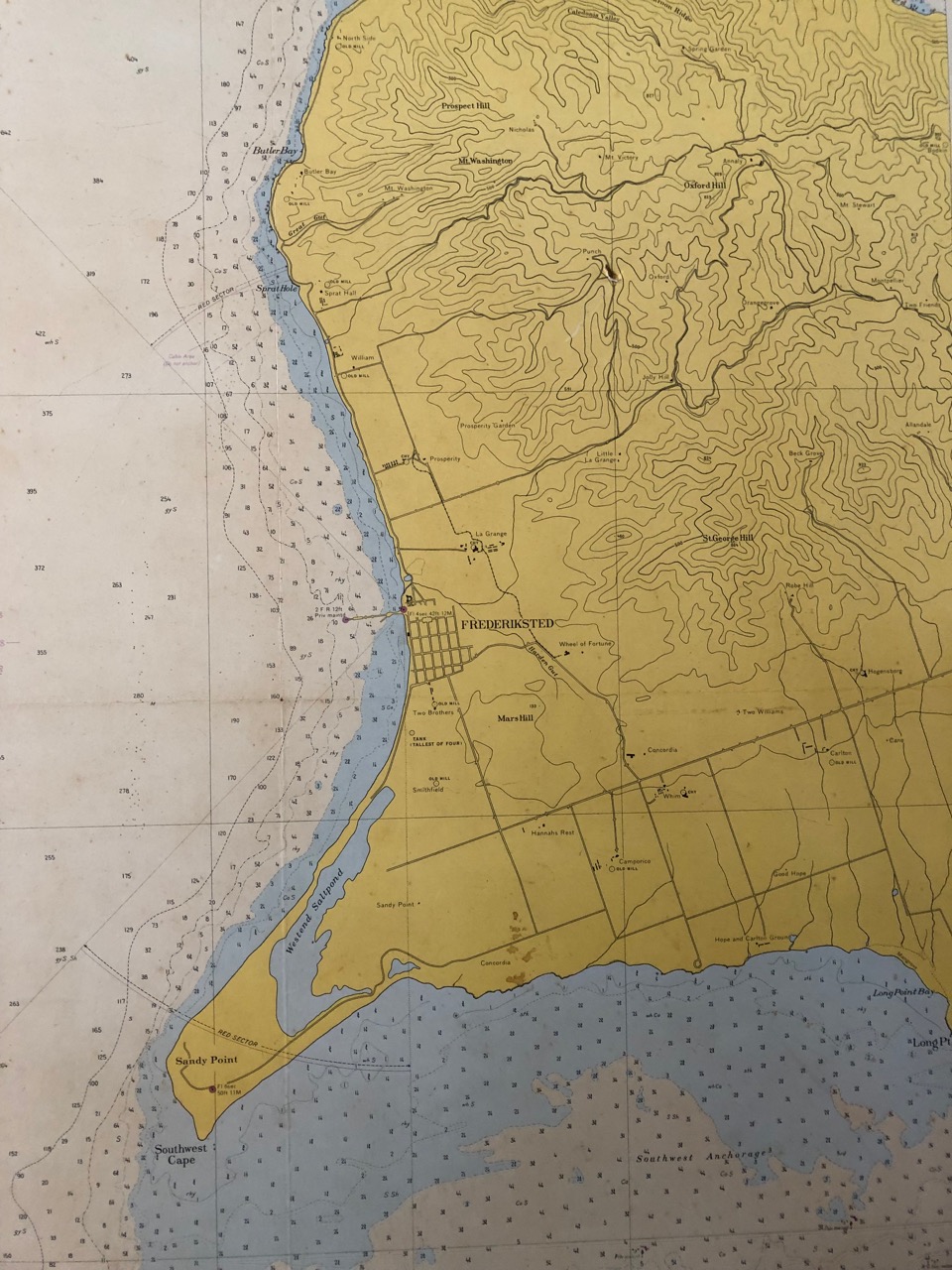 When we visit St. Croix, we often start the day at Polly's at the Pier, a restaurant in Frederiksted with good coffee and milkshakes and various breakfast items. As the name suggests, Polly's has an amazing view of the long pier where cruise ships sometimes spend the day and where as a boy I often watched U.S. Navy destroyers and attack submarines tie up.
On the wall at Polly's is a large print of a 1966 edition of the nautical chart of the west end of the island. (Sandy Point, which I wrote about last night, is the peninsula at the lower left.) Last week, I snapped a photo so I could search out a copy of my own.
I started my search tonight, and after a few dead ends, found the historical map & chart collection of the United States Office of Coast Survey, part of the National Oceanic and Atmospheric Administration. That collection gave me a high-resolution jpeg of the 1966 chart, as well as versions from other years. Now I can print and frame a copy for my own wall.
I set out to blog each day in March, and to ignore politics. I stayed away from Twitter the whole month, and made it to about March 25 with a blog post each day, then fizzled out as the spring break activities tired me out early every evening. But I'm back home, catching up at work, and ready to get into the groove again.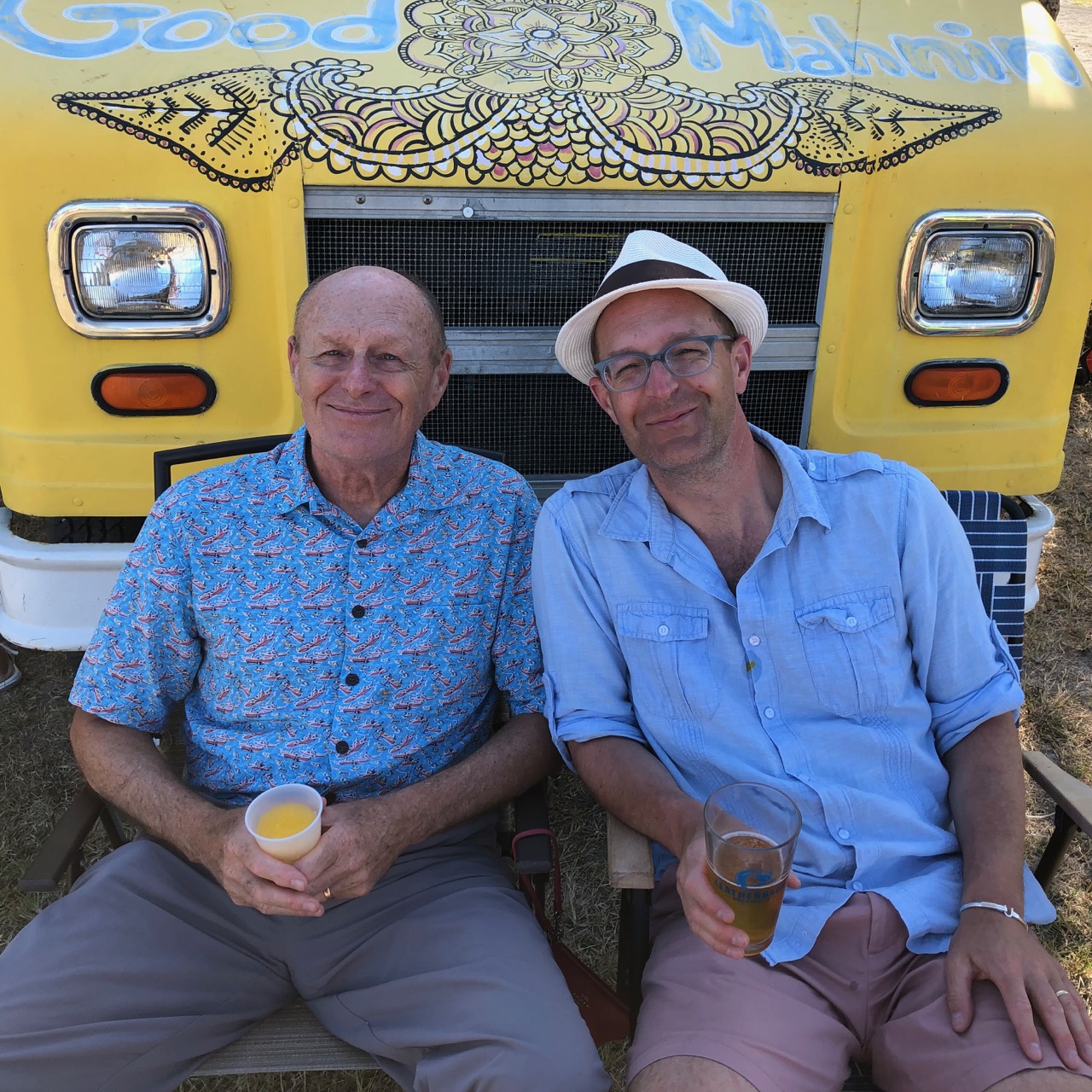 It's my birthday, and I'm back home after 10 days in the Virgin Islands, another wonderful return to the island of St. Croix to visit family, the gorgeous beaches of the West End and Buck Island, and the historic towns of Frederiksted and Christiansted. We also sailed on the Roseway schooner, strolled again among the ruins at Estate Mount Washington, and ate mahi sandwiches at Rhythms Bar at Rainbow Beach.
This year, instead of celebrating my birthday with the customary tour of the Cruzan Rum distillery (we had been to St. Croix for spring break in 2014, 2015, and 2016), we joined a crowd of a thousand for the celebration of the first year of Leatherback Brewing Company, a partnership led by my step-brother Aaron Hutchins. My father with his passion-fruit frozen lindy from Rosa's Stand and I with a Leatherback brew sat in front of one of the food trucks talking, while Oliver played soccer with other boys and my daughters waited in line for delicious mango sorbet. That night, Dad and Dot would accompany Aaron and his wife to the St. Croix Chamber of Commerce awards dinner, where Leatherback Brewing Co. was lauded as the new business of the year.
We were back at Leatherback just before departing the island. I enjoyed the tasty CocoCacao Stout, and Erin and I shared a newly canned Bush Life saison.
In between the Saturday party and our Monday departure, we met Aaron and his sons at Sandy Point National Wildlife Refuge for the final public day on that stunning beach before it closed for turtle-nesting season (April through September). Aaron had named the brewery after the leatherback turtles that nest at Sandy Point. Thirty-five years ago, I'd gone with my mother to join a group for a midnight vigil to watch as a massive turtle crawled onto shore, dug a hole in the sand, and laid her eggs. I vividly recall laying in the sand next to the turtle, catching and holding one of the eggs, and then gently placing it inside the nest. Aaron had brought a thermos of cold Backyard Guava IPA made with the juice of guava grown on a tree in his own backyard. We drank that vibrant brew, watching Oliver and Nico roll in the waves. That was a perfect day.
Erin and Anna still have a few days on St. Croix before they return, so Malia and Oliver and I went to dinner at Mercato Pizzeria. Malia drove us home, and they surprised me with a chocolate cake.
I've hit a wall. I'm tired today. No ideas or stories or conversations to chronicle here. Tomorrow's another day.
The Mueller report and Washington intrigue. Science integrity and a major settlement by Duke University. Technology giants and their plans to rule our lives.
I'm not in a place to dwell on any of that. I've spent today with other people and with different priorities. It's a day enjoyed for where I am, a peaceful calm far removed from those other issues.
That's well-being, and I am grateful for this opportunity.
Colleagues keep recommending articles in the Harvard Business Review, so I picked up a copy. I had some time to read this morning and sat with a cup of coffee reading from the front of the March-April 2019 issue. Nearly every page seemed to have an insight or tip or quote that made me pause, take a sip of coffee, and consider how I might apply that idea to my work. I especially liked a short item on intermittent collaboration, a summary of a longer research study (How intermittent breaks in interaction improve collective intelligence) that recommends independent "exploration and social learning." Basically, work on your own, then bring your ideas to the group. That's a concept I can send to my colleagues as a way to coordinate a couple of different working groups that I've been invited to be on.
I expect to have more time tomorrow to sit and sip and read and contemplate. I'm not even half through the HBR, so I'm sure I'll be full of new ideas when I get back into work.
Even with a dozen big trees now gone from our property, there still will be a lot of leaves to fall from the many dozens of oak, elm, maple, and other trees that remain. The last few times I've visited the hardware and garden stores, I've looked over the selection of gas-powered backpack blowers, expecting I'd purchase one so that I can keep the yard clear this autumn. But in the April issue of The Atlantic, James Fallows argues against leaf blowers.
Their high volume, which I had long considered their most salient feature, is only their second-most-unusual aspect. The real marvel is the living-fossil nature of their technology. And because the technology is so crude and old, the level of pollution is off the charts.
Fallows was part of a small group of people and elected representatives to successfully advocate against leaf blowers in Washington, D.C. Kudos to them for making their communities less polluted with gas fumes and low-decibel noise.
I knew that two-stroke engines weren't great for our environment, but I thought, wrongly, that they were getting cleaner. Fallows set me straight, and that's enough for me to not get one of those backpack blowers. The other facts he shares—about an increase in hearing loss in the U.S. and how a blower's motor will surely damage my ears—settles the case. I'll be looking at the battery-powered blowers from now on, and grabbing for the metal rake that's worked quite well for the last few years.
Kathryn Schulz is a staff writer at the New Yorker magazine, and she's one of the best journalists I've read over the last few years. Her feature about the potential of a devastating earthquake in the coastal Northwest, and her reporting about the stink bug invasion, are perfectly excellent. The March 25 issue includes a shorter memoir about her father's love of books, and how he stacked them up, around, and down the sides of a bedroom dresser.
There's a paragraph in the middle of Schulz's piece about the novel Middlemarch, which her father regarded as the greatest in the English, and others found near it. "I don't know if he had completed either of the other two books, or even begun them. But it doesn't matter, I suppose. No matter when my father died, he would have been—as, one way or another, we all are when we die—in the middle of something." Sublime.
Schulz's description of her father's books took me back to the literary cocoon of my friend Richard Gildenmeister, whose apartment in Cleveland was crammed full of books (and more). That short profile I wrote about him in 1996 is still one of my favorites. I'm glad, too, that I recorded Richard telling me some of the stories about the famous writers he met in his long career as a bookseller. Schulz tells of the stories her father told her when she was young. "I regret to this day that none of us ever thought to write them down."
Erin has kept a running list of the wondrous and humorous sayings of our children. She wasn't with us tonight when, after a long day of travel, Oliver said of this place we've come to visit, "There are so many convenient things here that I haven't noticed before." I heard him later in bed, reading from a book.
Erin alerted me to a heartwarming story about two Ni-Vanuatu women—one a Special Olympics athlete, the other her coach—featured on the Humans of New York site. (Erin tells me Ruby Sinreich alerted her.) Monick, the athlete, won the silver medal for shot put at the Special Olympics World Games in Abu Dhabi.
Anna, our daughter, took up the shot put last year, and is throwing again for her senior year. Her first track meet was last week, with others to come.
I came across Ruby's name earlier today as I searched for an old BlogTogether post. Ruby was one of the first bloggers in Chapel Hill, a regular member of our Chapel Hill bloggers meetup, and a speaker at the first Triangle Bloggers Conference in 2005. I was looking for an event we held a couple of years later, a happy hour in RTP to meet Eric Mlyn and hear about the new DukeEngage program he was leading. I wasn't very good at keeping the BlogTogether site alive, so here's the post archived in the Wayback Machine. I saw Mlyn's name in the Duke River of News this week and learned he is stepping down as executive director of DukeEngage.