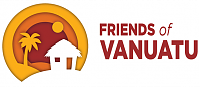 There's a new organization called Friends of Vanuatu that aims be a network for returned Peace Corps Volunteers and others with an interest in the Republic of Vanuatu. Count me in.
Not long after Erin and I returned from Vanuatu, and soon after I created my first website for Zuiker Chronicles, I also created a website for VanAmericanNius Online, my attempt to connect my fellows RPCVs. I couldn't sustain it for long, and my subsequent attempts with Storian also fizzled, but a few years ago I ordered stickers for the tamtam icon and I have one on my laptop now, and that reminds me daily about my time in Vanuatu.
Thanks to the Internet Archive Wayback Machine, there's a record of VanAmericanNius and Storian.
I hope Friends of Vanuatu will fare better. And I hope the Peace Corps can return to that amazing country (with COVID-19, Peace Corps suspended all activities around the world and brought home all volunteers). For Father's Day, Erin gave me a t-shirt marking the Peace Corps' 30 years there, and I wear it proudly as a friend of Vanuatu.
---