At work, the office of Dr. Mary Klotman, my boss and chair of the Department of Medicine for the past seven years, was emptied, cleaned, and repainted. Dr. Klotman has moved to the Dean's Office to be dean of the Duke School of Medicine. I'm staying put, excited to continue our various communications, web, alumni, and other projects, and to work with our interim chair, Dr. Joseph Rogers.
Last week, we emptied the house at 235 Legends Way and moved a street over to a townhouse, a one-year spot while we purchase and renovate an old house on four acres of land in Chapel Hill. My brother, Joel, and my in-laws, Dan and Joanne, came down to help with the move. Joanne cleaned out the fridge and freezer one day, on the lookout for the Ziploc bag with the anisakis worm I saved one night soon after we'd moved into that house.
The worm was long gone, but Joanne reminded me that that incident had inspired her to call her favorite Cleveland-area grocery store, Heinen's, and ask what they knew of anisakis in wild fish. The Rocky River Heinen's customer service desk connected her to the manager, and then to the fish department, and then the chain's head fish buyer called Joanne to explain how they candle their fish to check for quality and parasitic nematodes. Joanne and I are both reading Michael Ruhlman's new book, Grocery: The Buying and Selling of Food in America, which focuses on Heinen's as a way to explore the way food gets to our fridges and freezers. It's Michael, so it's a great read. I'm hoping we can get him back to North Carolina later this summer for a reading and other events at Duke and in the Triangle.
In college, I shopped at the Heinen's on Green Road; when Erin and I lived at Shaker Square, we shopped at the store at Chagrin Road. I wish we had a Heinen's here in North Carolina. We get Great Lakes Brewing Company bottles (and maybe cans soon), so why not have the best grocery store you could ask for? I'm ready—in the process of consolidating my many boxes of many papers and photos, I came across my Heinen's preferred customer card from the 1990s.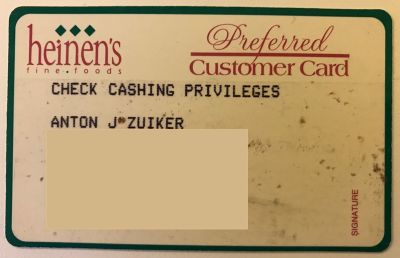 ---