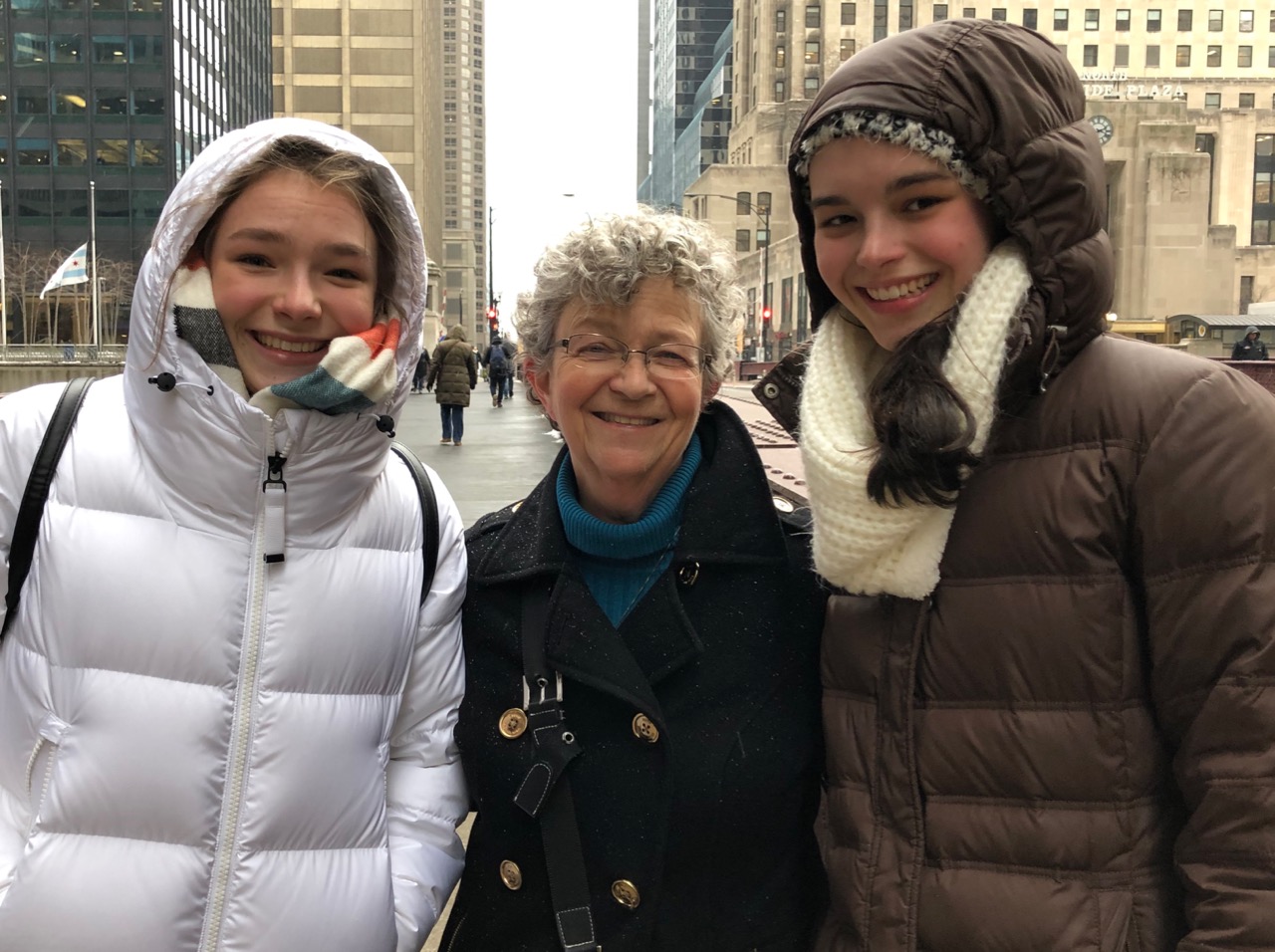 So far in 2019, I have taken three trips.
The first was a weekend trip to Chicago with my daughters, Anna and Malia, to celebrate Malia's birthday. We stayed at a hotel in the Loop, bundled up, and hustled through the snowy streets to the Art Institute of Chicago to look at great art, the Willis (Sears to me) Tower to view the city from the Skydeck, the CIBC Theatre to see Hamilton again, and back to the mesmerizing Cloud Gate sculpture. My mother, who I hadn't seen since she headed north to DeKalb last summer, took the train in one day, and we walked with her to the Berghoff Restaurant for lunch and then to the Marshal Field and Company Building (now a Macy's) to shop like the old days.
On the plane to Chicago, I read Do Listen, a heartwarming reminder from Bobette Buster to take time to practice listening to yourself, to your loved ones, to strangers, to the sounds of the world and the silences of art. I loved this book, and it fit so well into my travels and training and time with my daughters.
The next trip was to Ann Arbor, Michigan to attend a workshop on "creating a vision of greatness for work or life" at ZingTrain, the training facility of Zingerman's Deli. More snow! But I was inspired by the session — visioning is describing a narrative about where we're going, with enough specificity to know when you arrive — and I began to draft a vision for where I will be 2025, where I see Voices of Duke Health and The Long Table and my decade of listening and my work in science communication and community building come together in a specific way at Duke. Before I left Ann Arbor, I went to Zingerman's Deli for a delicious sandwich and to Literati Bookstore's upstairs cafe for a cappuccino.
On the plane home from Detroit, I read Do Story, also by Bobette Buster, this one drawing on her expertise in screenwriting and her attentiveness to who's told clear and uplifting narratives (Steve Jobs, JFK, DJ Forza, Winston Churchill). "Dare to be personal. Dare to be vulnerable. And dare to listen to others sharing their stories." I circled that message, closed my eyes there on the plane, and thought about the Voices episode we'd just published — The Gauntlet is a conversation with Dr. Anthony Galanos about his unfathomable grief about the death of his son, Nick.
My third trip was with Anna up to Baltimore to visit Loyola University Maryland, one of the colleges that has accepted Anna. We like Loyola, a Jesuit school like John Carroll University, where Erin and I met and which also has accepted Anna. After the session at Loyola, Anna and I went for tea at Artifact Coffee, realized we had another hour before we needed to head to the airport, and so went to the Baltimore Museum of Art.
On the way home from Baltimore, I read Made to Stick: Why Some Ideas Survive and Others Die, by Chip Heath and Dan Heath. It, too, is marked up in pencil.
Travel. Family. Books. Ideas. Looking to the future.
---