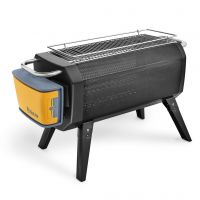 Another company that I have supported on Kickstarter is BioLite — I funded the FirePit hibachi-style grill last year, and am anticipating its arrival sometime this summer. We'll use it on the new deck of our renovated home.
But I couldn't wait for the FirePit, so last December I used a discount code to purchase the CampStove 2 bundle. It's a cool wood-burning unit with a fan for smokeless fires, and it generates electricity to power a phone or light. I'll use this stove next month when Oliver and I go camping with my brother, Joel. (I have an old MSR WhisperLite backpacking stove, but it's not working.)
As I read through the pages on the BioLite site, I saw that the company has a mission to bring "clean cooking and charging" to families in India and Africa. The scenes in their introductory video remind me of the huts in Liro Village and across Vanuatu. I thought about asking to buy one of the HomeStoves developed for off-grid households. It would make a great gift for Leah and our family in Liro, in case the concrete smokeless stove that we made for their kitchen is no longer functioning.
So, too, would the SolarHome 620 package: a solar panel, three lights, and a unit that can play radio and mp3 files, and charge phones. I ordered that package last week, and it arrived yesterday. It is cool! I'll install it in the shed, which could use the light inside. And if it works as well as it promises, I'll buy one or more to take to our family in Vanuatu this summer
That will bring me full circle. My time in the South Pacific was dramatically improved by a solar panel my father brought me, and when I departed Paama in 1999, I had just placed 30 orders for solar-panel kits for families on Paama and Epi. I heard a few years later from another Peace Corps Volunteer that the kits had arrived, and worked. (I blogged that in Lights out.)
Kudos to the BioLite team for designing some very nice products.
Here's the BioLite video:
---