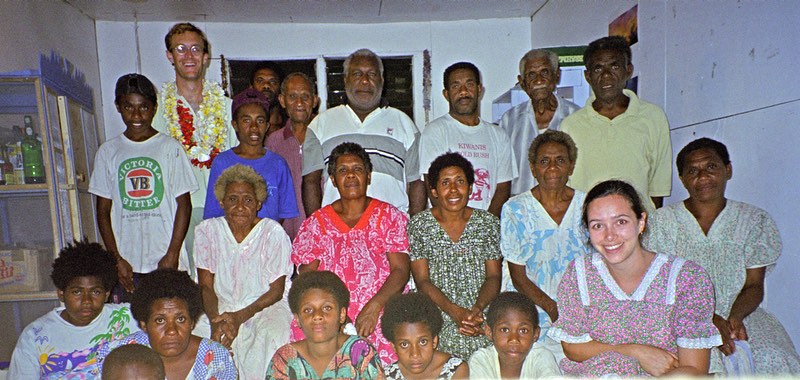 "Dad, will there be a hurricane when we visit?" Oliver asked this morning while we waited for his school bus.
"No," I said.
"Why not?"
"It won't be hurricane season any more."
We were talking about hurricanes because Cyclone Hola had just spun across the middle of the Vanuatu archipelago, including Paama Island, where Erin and I had served as U.S. Peace Corps Volunteers. (The South Pacific tropical cyclone season runs from November to April.) Oliver was asking about hurricanes and Paama because we are taking a family trip to the Republic of Vanuatu this summer, nearly 20 years since Erin and I arrived to learn the language (Bislama), to be introduced to the culture (Melanesian), to live and work in a welcoming community, and to be a representative of the United States of America.
The archives of my mistersugar.com blog, which I started writing in early 2000, are filled with posts about our experience in Liro Village. If you don't know, it was fabulous: nearly every day, amid the blue ocean and green palm trees and blue skies, I would turn to Erin and say, "We are Peace Corps Volunteers in the South Pacific."
And in the 18 years since we departed Vanuatu, Erin and I have talked often about our memories of Paama (and the other islands we visited, including Malekula, Maewo, Espiritu Santo, Ambrym, Epi, and Lopevi). As our own children arrived and have grown, we've shared stories and photos of the extended family on Liro, pictured above, who made our time there so memorable. We've been saving up ever since, and now we get to return to Liro with our children—we've purchased our tickets, and we are super excited.
We'll fly to Sydney, Australia, and spend a few days walking that city and riding the ferries in the famous harbor. Then it's on to Port Vila, the capital of Vanuatu; a smaller plane to Paama to reconnect with our Liro family; an overnight trip to Tanna Island to see Yasur volcano; and back through Sydney en route to our home in North Carolina.
It'll be a two-week trip — a whirlwind after all.
---