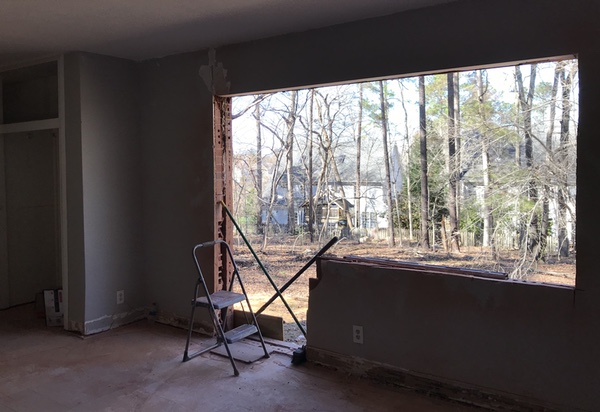 Another Saturday night, another date night with Erin. First dinner — tonight at Babalu for lobster tacos — and then to Lowe's (other nights it's The Home Depot) to review options for our house remodeling. We reviewed kitchen faucets, vanity mirrors, and carpeting tonight. Tomorrow we have to make decisions on the rainfall shower head for the master bathroom. On Monday, we'll have to sign off on the kitchen layout and cabinets.
It's been a while since I posted about the house that we bought last June. We're a few months into a full-bore remodeling project. We hired a contractor, the house was gutted, the old oil-heating unit was hauled out from the basement, the carport was framed in to make a new office space for Erin and a side entrance/mudroom/laundry, the living room and master bedroom will have new doors out onto a new deck, and all the windows are being replaced. In less than two months, the project should be done.
I've been up to the house every few days over the last months. I walk through the rooms, checking on the progress and envisioning the project finished and the structure our home. Some days I'll spend an hour or two raking leaves or digging out shrubs or gathering up fallen tree limbs and branches. And nearly every time I'm up at the house, I walk out into the back acres. I love to just wander back there among the tall oak trees. A couple of times, I've put up a couple of hammocks, and the children and I take turns gently swinging with view up to the Carolina blue sky.
Today, out there on the back slope by myself, I was filled with joy, happy for my family, and deeply in love with Erin, a perfect partner for this long-sought project. Our decision list is long yet, which means more date nights on the horizon.
---