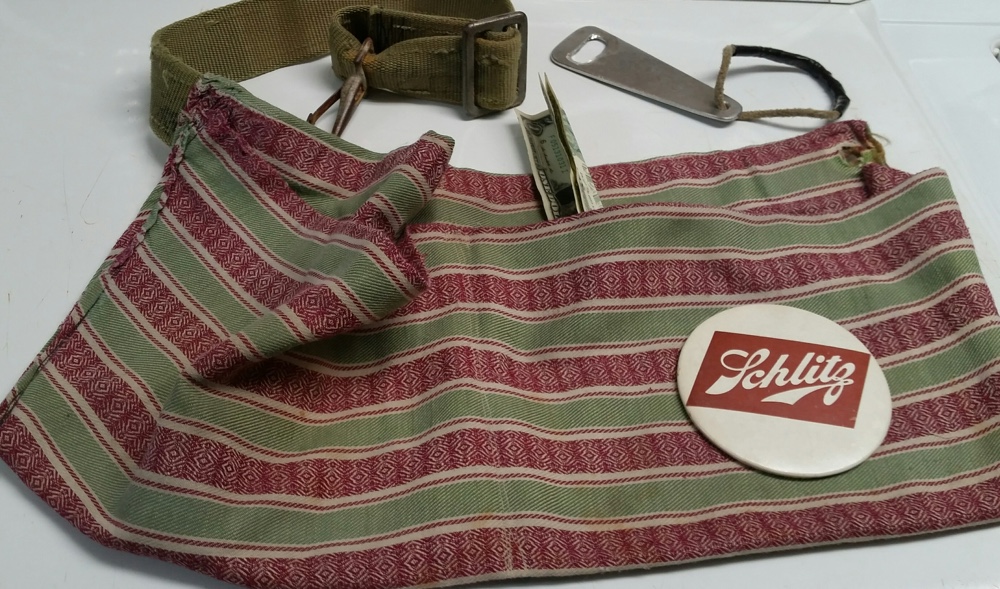 When the Zuiker aunts and uncles gathered earlier this month in Florida to surprise Aunt Judy on her 80th birthday, my father sent me a message to report that Uncle Larry was passing around a new book I might be interested in getting.
He was right, and so I ordered a copy of Wrigley Field's Amazing Vendors, by Lloyd Rutzky and Joel Levin. The book is a collection of photos from the 1970s showing the men (and a few women) who worked at Wrigley Field selling hot dogs, popcorn, beer, and soda.
My father, Uncle Larry, Grandpa Zuiker, and most of the other aunts and uncles worked at Wrigley, Comiskey Park, Soldier Field, and Chicago Stadium. And page 40 of the book features a photo of my father, with this caption extolling my grandfather:
"One of the most famous and cherished tools of Chicago's beermen in the 1970s was the Zuiker opener, which fellow employe Francis Zuiker made as a sheet metal worker [at the Pullman Car Company]. They were completely unbreakable and opened bottles with precision. Zuiker sold them for only $1 each. … Above is Zuiker's oldest son, Joe. Joe was one of several Zuikers who toiled at the ballpark."
One of my earliest memories is of seeing my father on television as I watched, with my mother, an evening White Sox game. My dad was in law school at the time, selling beer at the ball games to pay for the degree. Later, when I was in high school, dad would take me to Cubs and Sox games, and I used to love walking with him through the stadiums as he was greeted by one old-time vendor after another.
The Zuiker bottle opener that grandpa was famous for was also mentioned in the 2000 Chicago Tribune obituary for Francis Zuiker:
Mr. Zuiker always had more than one job, usually as a free-lance writer and photographer, a side occupation that brought in extra money as well as satisfied Mr. Zuiker's creative nature. Another of his secondary professions was hawking popcorn and beer at sporting events in town; his daughter said that while on that job, he made (but never patented) improved can openers and similar devices for fellow vendors.
The Tribune had featured grandpa 27 years earlier in a story about ball-park vendors. ("At the ball park: It may be peanuts but it's their bread & butter!" by Stephanie Fuller; Chicago Tribune, Aug 21, 1973; pg. B2] I found that article this summer when I was searching the Tribune archives for mentions of my family. (One of my next blog posts will be about two surprising finds about my grandmothers.)
I liked this passage at the end that explained grandpa's experience with how "heat combined with beer drinking" could cause trouble:
"Different teams attract different types of crowds," he continued. "With Cincinnati and St. Louis you get the beer drinkers. Other teams bring more family crowds. No two teams draw exactly the same type of crowd.

"You see, most vendors work both the Sox and Cubs baseball games, hockey games and events at Solder Field. We get a lot of exposure. At Sox Park, Texas and California bring in families. By a family crowd, I mean you get a lot of tour groups and people who bring their own lunches and drinks. They're not big spenders."

Zuiker feels the ball park is a bonanza for kids who obtain summer jobs as vendors and can pay for their education. He ought to know as his six sons worked their way thru college hawking items, his wife works in the hot dog room, and one of his daughters is a "weenie wiper," a person who stuffs the hot dogs.
I am in search of a Zuiker opener. [Uncle John sent a photo of an opener and an apron made by Francis Zuiker. See above.] My mother-in-law, meanwhile, reports that she's got a custom-made beer-bottle opener that her father crafted on his farm in Huron, Ohio. I suspect we could put together a book about the self-sufficiency of the greatest generation with just photos and stories of the bottle openers those men and women created for themselves and their comrades.
---