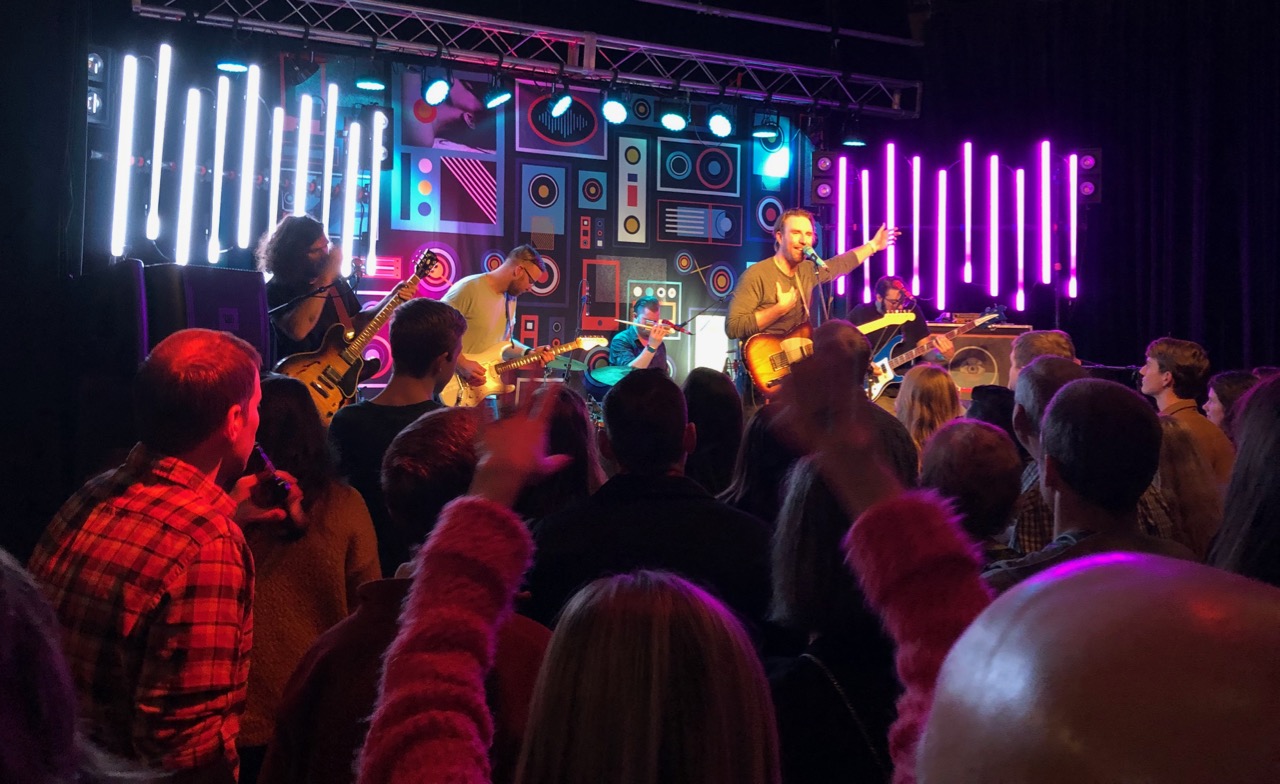 Nick, my brother, would normally be planning to listen to as much live music as he and Carolyn could during the South by Southwest festival that's happening next week. They love live music—they live in Austin, Texas, for goodness sake—and they're always quick with a recommendation for what I should be adding to my playlists. Nick often looks through the Cat's Cradle schedule to tell which bands to catch here in Carrboro. That's why Anna and I went to hear Bronze Radio Return a few weeks ago (photo above).
But, Nick and Carolyn won't be hearing much music this month. They had a baby last month, and they are staying home to dote on the little one. Erin, thoughtful as ever, sent a Tar Heels outfit , and they dressed him in it one day and sent a photo. Given that Carolyn is a third-generation alum for the University of Texas, we were touched that she allowed Carolina blue on her child.
To pick up the music slack, I'm listening to the Austin 100 mixtape from NPR, "six hours of music, highlighting a hundred handpicked highlights from among the thousands of acts playing SXSW 2019." It's great so far, broadening my musical tastes, and certainly much cheaper than a SXSW festival badge.
I was in Austin last November to attend the Association of American Medical Colleges annual meeting. Nick, Carolyn, and Matt (another brother) walked me along South Congress Avenue on a beautiful day. I asked to go to Goorin Bros. hat shop and they waited while I selected a blue Fedora, then we enjoyed lunch alfresco at Perla's, laughing about our Austin Marathon experience in 2016.
When my mother and I had visited Nick, Carolyn, and Matt in 2015, I bought a pair of black Lucchese cowboy boots at Allens Boots, but for years whenever I wore them, I would struggle to get them off, my children laughing at me contorted on the floor. On my last visit, with my new Fedora perched on my head, I stopped back into Allens and paid $15 for a boot jack. What a difference the right tool can make.
---