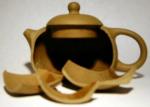 Eleven years ago, my precious little clay teapot was broken. I've been on the hunt for a replacement ever since.
Tonight, something inspired me to make a pot of Lupicia White Peony Fujian tea, and then search again. And, a-ha, I found the distinctive, simple teapot online, first here and then everywhere, and I learned that I should have been looking for the traditional xi shi design. I'll be ordering a new teapot soon, and will first brew Keemun Mao Feng Imperial, which I get from Upton Tea Imports.
What could that burst of inspiration have been?
I'd just come downstairs after putting Oliver to bed, reading him another chapter of Harry Potter and the Sorcerer's Stone, and getting a huge hug from him. Oliver is in kindergarten now, and learning to speak Mandarin as part of the dual-language program offered by the Chapel Hill-Carrboro City Schools.
---