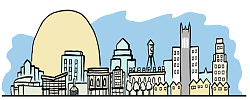 Last week, as a major hurricane bore down on North Carolina, I posted what I thought was a good example of the 'small just, just ahead' style of communicating.
Now, with Florence having blown in and deluged us with rain (and still a large portion of the state is reeling from floods), it's appropriate to share two more examples.
First, a message from the president of Duke University, Vincent Price, posted here, which includes this paragraph:
The most immediate need is for resources. This week, we will launch the Duke Doing Good in the Neighborhood Emergency Response Fund, which will support the North Carolina Disaster Relief Fund and long-term disaster recovery efforts such as cleaning, repairing and rebuilding homes. You can also support the American Red Cross Disaster Relief Fund, by contributing online or texting the word REDCROSS to 90999 to make a $10 donation.
And that same day, Duke's chancellor for health affairs, Eugene Washington, sent a message to the Duke Health community, including these paragraphs:
Throughout this catastrophic weather event, and even before it began, Duke Health has played a very important role in addressing some of the resulting healthcare challenges. I wanted to share some of our actions in this regard as we all care deeply for those who have been devastated by the hurricane and wanted you to know we can all be proud of our response and continuing commitment to help.

At the request of the state emergency manager prior to the hurricane's arrival, our Duke Emergency Preparedness team and Transfer Center took the lead in coordinating critical medical transfers for more than 130 patients from the coast to hospitals in central and western North Carolina. Our Life Flight team provided medical care and transportation to directly evacuate a number of seriously ill patients from the coast. The Duke Health State Medical Assistance Team (SMAT) was dispatched to Goldsboro last Tuesday to set up a Special Medical Needs Support Shelter in a then empty hospital building that has now cared for more than 120 patients and family members in need. Another dedicated team of volunteers from across Duke Health is leaving today to relieve the original SMAT team.

In the aftermath of the storm, Duke has also provided critical medications and medical supplies to a coastal hospital that had exhausted their stores, and we have offered medical equipment, medicines and food packages to hospitals located in the flood zone. As the storm waned, Duke Life Flight nurses staffed Coast Guard helicopters to begin evacuations from coastal hospitals as the state again looked to Duke to help coordinate the response among hospitals in our region. Today Duke Life Flight is now back in the air assisting in medical transports, and we continue to seek direction from state emergency services officials as to how we can provide additional help to communities in need.
When I promote 'small just, just ahead' as an important strategy for organizational communication, it's usually related to the day-to-day flow of information to reflect the place's and people's activities, but the strategy is always very important, and useful, during major events.