Nine months into my job at the Duke Clinical Research Institute, I'm happy and enjoying the work. I hope to be at DCRI for years to come. Still, I've always believed it's important to keep an up-to-date résumé handy so I can show my career path and respond quickly to new opportunities.
Here's where I currently list my professional details: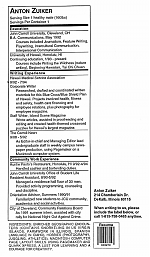 And for fun, here's a version of my résumé from 1994. I was returning to the Mainland after two enjoyable years in Hawaii, where I had a great first job as a writer for Hawaii Medical Service Association (Lisa Baxa was my first manager, and Bill Harby was an important writing mentor who edited my Mauna Kea feature and Keck Observatory essay). I was feeling creative, and fashioned my résumé in the form of a nutritional label. I don't remember actually sending it as part of a job application, but I had fun making it.
---