For the last few months, I've slowly savored the experience of holding and reading Kissa by Kissa, a sensuous book written, designed, and produced by Craig Mod. The book chronicles Mod's long walk through Japan as he ate pizza toast and talked with the elderly proprietors at mid-twentieth century Japanese cafés called kissaten.
The book is a joy to hold, its cloth cover and thick pages of quality paper complementing the excellent writing and moments-in-time photographs. I made it through the book a few pages each week, nearly all late at night when the house was quiet and I could sit still by myself, slow my breathing, and imagine myself stepping into a kissa with Mod as he greeted the regulars in Japanese.
I was a supporter in Mod's first campaign to fund the book, and I received copy 0194 of the first 1000-copy print run. I don't remember how much I paid for this, but whatever it was could not equal the enjoyment I've gotten from it. I'm glad to be in Mod's Special Projects membership program, and I enjoyed reading the dispatches from his latest month-long walk in Japan (where he lives).
It's a new year, and I am grateful that 2020 is behind us. There's a lot for me to remember — I turned 50, celebrated 20 years as a blogger, marked 10 years in my job at the Duke Department of Medicine (and then moved to a new position in the Duke Clinical Research Institute), and all that in the context of the COVID-19 pandemic and its restrictions and fears and frustrations.
I'm starting this new year in a new space. Erin's new office shed to the west of the house was completed last month and when she moved in there, I inherited the space inside the house (the former carport that we had enclosed to make an office and laundry/mudroom). My desk is set with work and personal computers, and I look south past the driveway and gravel road to the tall trees; the oaks and poplars are bare right now, but the bronze leaves of the American beech trees and the green needles of the loblolly pines are visible. The other night I stepped outside and heard two great horned owls in conversation. Inside the office, the potted Meyer lemon tree is loving the bright sunshine that fills this space each day. There are four lemons growing on the tree, and a blossom promising another.
I also am starting this year with a permanent reminder of the months that have passed. I have a new inch-long scar above my right brow, and daily jokes from my family about how I got it: too many laughs and drinks one night with a group of friends, a wave of nausea in the morning, coming to flat on the bathroom floor, and my head butterflied and bandaged by Erin. A lesson learned the hard way.
I'm thankful to be alive and well for a new year and ready to make a mark on 2021.
I had to drive to Durham to swap laptops (I'm in my third week of the new job, but could only arrange to pickup the computer today). On the way, I listened to the SiriusXM football channel as Ray Hudson talked about the news that soccer legend Diego Maradona had died at age 60 from a heart attack.
"A blind man on a galloping horse in a Scottish fog" could see that Maradona was talented and one of the greats, said Hudson. Soon, he was weeping, and I too, was tearing up, as I remembered watching Maradona in the 1986 World Cup—I was a teenager who talked my way into using the satellite dish at the high school across the street and I was alone in the media center as Maradona weaved through the English team for that glorious goal.
Last week, Erin and I watched and enjoyed the first season of Ted Lasso, a wonderful show about an American football coach who goes to England to manage a Premier League team. "Football is life," says one of the players to Coach Lasso. I imagine Dani Rojas, that character, would be saying that right now to rest of the players in the locker room as they paused to honor Diego Maradona (or curse him for that egregious earlier "Hand of God" goal).
I voted a couple of weekends ago, waiting in line outside the Carrboro Town Hall (where the Black Lives Matter flags rightly fly). As luck would have it, I walked up to the back of the line just as my friend Beka and her son, Milo, arrived. It was Milo's 18th birthday, and he was casting his very first vote.
My first vote was the 1988 general election. I was at college in Ohio, and I completed my Illinois absentee ballot in my dorm room on the third floor of Dolan Hall. When the 1992 general election came around, I was a new transplant in Hawaii, and I walked down to the Makiki Community Center to cast my vote. That night, I was in Waikiki for the Democratic Party's celebration.
Now I am in North Carolina, a swing state that can determine the outcome of today's election. I am proud to have voted for Joe Biden and many others who cherish character, decency, service, truth, equality, and hope as abiding American principles.
And I am proud of my children to exercising their rights: Anna voted at Carrboro Town Hall the day before me (her first vote for president), Malia was just elected a class senator at Carrboro High School, and Oliver regularly asks his friends what they know about the candidates.
Today is a good day. Tomorrow will be a good day for good people to stand tall and march forward.
After a decade as communications director for the Duke Department of Medicine, I am making a change. Next month I will take a job as writer for the Duke Clinical Research Institute, which was awarded a major grant from the National Institutes of Health to be the coordinating center for a set of studies called Rapid Acceleration of Diagnostics for Underserved Populations (RADx-UP). I will be a member of the Research Communications & Engagement team.
I am excited for this opportunity to apply my editing experience, web knowledge, online community building, and interest in infectious diseases. I am especially humbled to have another opportunity to be able to serve others, especially communities most affected by COVID-19 — this continues a thread that connects my childhood upbringing (my father and mother taught me to be aware and sensitive to others) to my Peace Corps service to my BlogTogether and ScienceOnline efforts to give others the tools to express themselves and teach others.
The Department of Medicine has been a great home for me, and I will miss it. I feel I'm going out on a high note. This week we published the next in our Voices of Medicine oral history interviews with senior and emeritus faculty members. In this episode, Dr. John Bartlett talks about his four decades treating patients with HIV/AIDS. When I was in graduate school in 2004, I organized a series of events called Narratives of HIV, and so Dr. Bartlett's story feels like a continuation of that project.
The department has given me many opportunities to share stories about science and medicine, such as a profile I wrote this month about Dr. Opeyemi Olabisi, a physician scientist in the Division of Nephrology. It's been way too long since I put my medical journalism training to use, and I had a great time writing this piece.
Meanwhile, Medicine Grand Rounds is going smoothly, This Week in Medicine is an effective e-newsletter with leadership messages and a roundup of links to online content, and all the other ways that my colleagues and I support the 2000 faculty, trainees, and staff have made every day interesting and fulfilling. I am grateful for this work over the last ten years. I am looking forward to the years ahead.
It is the tenth day of August, which means Erin and I are celebrating our anniversary, 24 years since our wedding in Cleveland. We spent the day working our jobs, punctuated by a few trips down the gravel road to watch the demolition of the old house. I went for a run on the trail by University Lake, came home, showered, dressed. The children went to the swimming pool, and Erin and I went to dinner at Hawthorne & Wood (General Tso's cauliflower, tomato soup and melon salad, flounder in lemongrass-infused coconut milk, seared tuna and zucchini in Provençal sauce) and talked about the new house we want to build soon.
When we got home, the children had sweet, buttery, delicious cupcakes ready for us. We sat around the dining table, and I read them my anniversary blog posts from previous years, reminding us all how our love story and this family has grown.

Earlier this week, Erin and I purchased (through Paama Properties LLC) another piece of land and a hundred-year-old wood house. That house once was alone on the surrounding 18 acres, but over the decades the 18 has been divided, and we live in the brick house up on the back acres. This lot we just bought still owns most of the gravel lane that comes off Smith Level Road and up between our two properties (in June we purchased the lot across from our house.) Altogether, our three contiguous lots are a combined 10.46 acres.
The wood house has seen better days, and it will be coming down soon to make way for a new house to be built for one of Erin's siblings.
Erin and I walked our land this morning, discussing where we might build our new house. We dream, we plan.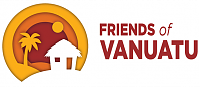 There's a new organization called Friends of Vanuatu that aims be a network for returned Peace Corps Volunteers and others with an interest in the Republic of Vanuatu. Count me in.
Not long after Erin and I returned from Vanuatu, and soon after I created my first website for Zuiker Chronicles, I also created a website for VanAmericanNius Online, my attempt to connect my fellows RPCVs. I couldn't sustain it for long, and my subsequent attempts with Storian also fizzled, but a few years ago I ordered stickers for the tamtam icon and I have one on my laptop now, and that reminds me daily about my time in Vanuatu.
Thanks to the Internet Archive Wayback Machine, there's a record of VanAmericanNius and Storian.
I hope Friends of Vanuatu will fare better. And I hope the Peace Corps can return to that amazing country (with COVID-19, Peace Corps suspended all activities around the world and brought home all volunteers). For Father's Day, Erin gave me a t-shirt marking the Peace Corps' 30 years there, and I wear it proudly as a friend of Vanuatu.
The thunderstorm that almost killed me last night—I'd started on a run down the gravel drive and lightning struck somewhere near, the crack of thunder telling me I was being stupid for being out—had given way to evening, the morning dawned cool (I know because I was out there with Tilly) and I figured I could work in the basement before the heat and humidity returned.
I drank my coffee and enjoyed scrambled eggs (laid by our hens, cooked by Erin), then descended into the basement to rearrange the stacks of plastic bins and other items we're storing down there.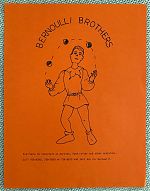 My life is in those bins: a bin for report cards and reading certificates during elementary school, a bin for high school yearbooks and creative writing, another for college term papers and a couple of bins for the magazines and newspapers I edited early in my career, and at least four for the journals and letters and mementoes of our time in the Peace Corps.
As I rearranged the bins, I looked inside in search of something I'd once written about the experience in Vanuatu, and along the way I pulled out these items:
A flyer for the Bernoulli Brothers juggling group I was in with my friends Chris and Peter.
My college report about the history of barbed wire, invented in DeKalb, Illinois, where I once lived; the deed for the land we bought last month referenced an old barb-wire fence along the southern border, and when we walk the land we see the wire embedded in tree trunks or covered by a century of fallen leaves and branches.
An index card with a note from Grandpa Sisco, sent to us in Vanuatu; taped to the card were two two-dollar bills—the gathering of men signing the Declaration of Independence glaring in its whiteness; the note with a suggestion from Grandpa to "have a cup of coffee and a roll when you're in town" (Erin and I usually went to the Rossi for a pot of Earl Grey tea and croissant with scrambled eggs).
More chronicles from Frank the Beachcomber about my grandparents' trips to the Outer Banks, these recounting the fishing in Buxton, Ocracoke, and under the bridge of the Oregon Inlet.
Postcards for The Long Table, a project that we hope to restart with tables made from the blackjack oak.
There are more bins and boxes to arrange down there, and more of the past to remember. The basement was getting hotter, so I finished up, put my running shoes on, confirmed there were no storms in the area, and went for a jog.
She's a golden retriever puppy, and she will be us for years to come.
Last night was my night to sleep in the room where we've put her crate, and we woke a few times to step outside. At 4:30 a.m., Tilly sat calmly in the grass, and we listened to the bugs, the juvenile great horned owl, and a far-off rooster.
Erin and I and the children have lived in North Carolina since 2001, but until last month, we had never been to the Outer Banks. With my brother, Joel, and our mother living down in Wilmington, we've visited Kure and Carolina and Wrightsville beaches for the weekend, and we've spent a week on Oak Island (and I retreated to Southport once). Our longer beach vacations have been to South Carolina and Georgia, and to St. Croix.
All along, I thought about my grandparents. Francis and Clarice Zuiker visited the Outer Banks often in their retirement, camping and beachcombing and fishing and sending their stories back to the extended family. My 2003 blog post was about my grandfather's letter recounting their epic fishing trip to Chesapeake Bay and Manteo, and the hurricane that chased them from the Outer Banks.
I regretted not getting to the barrier islands all these years.
But, finally, at the end of June I found myself passing through Williamston and Manteo as we made our way to Corolla, where we would spend a splendidly relaxing week in a big house with Erin's sister, Mary, and her family. From the deck, we could see both the Currituck Beach Light House and the nearby Atlantic Ocean. Each day, as I sat under the beach umbrella watching the porpoises and the pelicans and the osprey, wriggling my toes in the sand and through the broken seashells, I said a prayer of thanks for my family nearby, far away, and gone.
I started blogging 20 years ago because of Frank the Beachcomber; this post from 2010 best tells the story.
I kept blogging for the past two decades because of my other grandparents, and because of my parents, and because of my brothers and aunts and uncles and cousins, and because of Erin and our children, and because of the people I work with and the people I invite to gather, and because of the world as it is and because of the world I want it to be.
Thank you for letting me share my memories, my travels, and my hopes. Thank you for reading.
Late last month, I marked a full 10 years since I started my job as communications director for the Duke Department of Medicine. It's been a fabulous job, and I feel fortunate to have been given this challenging, rewarding work. Together with my colleague, Elizabeth McCamic, we built a responsive and adaptive communications strategy and set of tools—a sprawling website, the MedicineNews portal, and the This Week in Medicine e-newsletter, among others—to reflect the mission and activities of one of the top internal medicine departments in the country.
When I started in 2010, there were only a few other communicators in the School of Medicine. Today, there is a network of dozens of communicators across the 25 departments and 12 institutes. There have been many opportunities to help recruit, mentor, partner, and celebrate these colleagues over this decade, and every day I'm inspired by their talents and work, which you can see flowing through the Duke River of News.
As I mentioned in my birthday post, one of my work projects, Voices of Duke Health, received an honorable mention in the GIA Awards for Excellence. The Association of American Medical Colleges hosted an online awards ceremony last week and posted the award winners. I was proud to represent Duke University, and the winning projects got me thinking about new ways to do our work here even better.
I have time on my hands, and a nice spot to enjoy it. I brought a stack of recent issues of the New Yorker, and in the June 8 & 15, 2020 issue—the Fiction Issue—I found four essays on the theme Close Encounters. The New Yorker publishes these essays in special issues throughout the year, and I've always enjoyed the compact writing, contained in two columns and an illustration on one page. I read them, marvel at the good writing, and feel inspired. The themes can be good writing prompts, so my goal this week is to use some of that time to write a close-encounters essay of my own.
Today was the first day in many months that I truly relaxed. Sitting outside, I alternated between mindlessness—just sitting there, calm and breathing and not thinking—and reading the final 100 pages of Apeirogon, by Colum McCann. It's an amazing book that has had me in tears a few times over the last month. The book jacket describes it as "an epic story rooted in the real-life friendship between two men united by loss." It's that, and so much more, sad and maddening and full of connections and hope. As the title suggests, there may be a "countably infinite number of sides" to the Israeli and Palestinian story, but in the end, the Occupation is not good for either side. It must end. And my country must stop exporting guns and bullets to places where daughters are killed and their fathers, through their unending grief, must teach us all that peace can prevail. It's fitting that I should finish this book on Father's Day. I am grateful that McCann used his storytelling gift to honor Bassam Aramin and Rami Elhanan and their daughters Abir and Smadar.
Earlier this month, Erin and I purchased the undeveloped lot adjacent to our home in Chapel Hill, so now we own 8-and-a-quarter acres of land. Most of it is covered by tall oak and tulip poplar and red maple trees. We have plans to build a new house at some point, and we've been thinking about ways to use the land for good, at least regular Long Table dinners with friends and strangers, on tables made from the blackjack oak we had milled last year.
For now, we are going to make a trail through the woods, and I'll continue to stand out back listening to the birds and feeling grateful to live on this land.